Posted on
Thu, Feb 11, 2010 : 7:45 p.m.
President Barack Obama to deliver University of Michigan spring 2010 commencement
By Juliana Keeping
President Barack Obama will deliver the spring 2010 commencement address at the University of Michigan, where he will receive an Honorary Doctor of Laws Degree, U-M announced Thursday evening.
"President Obama has captured the imagination and enthusiasm of many students with his inspiring words of hope and change. We are honored to welcome a leader of his distinction and look forward to his message," U-M President Mary Sue Coleman said in a written statement. "We could not be happier for the graduates who will celebrate their academic achievements with the president of the United States."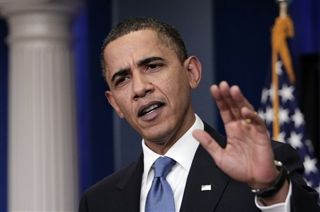 The Associated Press
The ceremony will be held at 11 a.m. May 1 in Michigan Stadium. U-M officials said further details of his visit will be announced soon.
It's unclear how long U-M has been working to bring Obama to Ann Arbor for commencement.
U-M spokesman Rick Fitzgerald said the university extended the invitation, and Obama accepted. He said he had no additional details to share, and U-M would not discuss any planned security measures for his visit.
Reaction to the news was swift and overwhelmingly positive.
U-M Regent Julia Donovan Darlow said she's overjoyed by the news.
"I think it will be wonderful for the students and the university," Donovan Darlow said. "I think it's tremendous."
Ann Arbor Mayor John Hieftje, who teaches a government course at U-M, said he hopes to be in attendance for Obama's speech.
"I think it's spectacular. It'll be good for the city and I look forward to hearing his message," Hieftje said.
Hieftje recalled the time he attended Vice President Al Gore's speech at the Community Center in 2000, while Gore was running for president and Hiefjte was running his first campaign for mayor of Ann Arbor.
Abhishek Mahanti, the Michigan Student Assembly president and a computer science engineering senior, said Obama's visit will be great for the ailing state, not just U-M and Ann Arbor. Mahanti said he'd heard rumors Obama's name was on the short list for commencement speaker and was optimistic it could happen.
"Everyone's excited to see Barack Obama come here," said Mahanti, who was celebrating in the student government offices with his peers. "It was surprising, but my optimism got the better of me."
Samuel Marvin, chairman of College Democrats at U-M, said Obama's announced visit has him thinking back to what he learned in class about Lyndon B. Johnson's 1964 speech at U-M, in which Johnson presented his goals for the Great Society. Marvin said he expects Obama's speech to be similar in message, looking toward the future.
"It would be cool to hear something similar," he said, mentioning education and health care reform as preferred topics.
Marvin said his group set two national records this past year for phone calls made during phone banks for Organizing for America, the grassroots effort building on the call-for-change movement that helped elect Obama. Marvin said his group made more than 8,000 calls toward that effort last semester alone. "This is something we've been hoping for," Marvin said. "It's pretty much the culmination of four years at this university."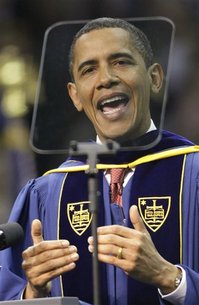 Obama will be greeted by a Michigan economy suffering from an unemployment crisis.
"I don't think he needs to hear this, but I think a lot us want to hear about jobs, and are we going to get them after we graduate?" said U-M graduate student Evangeline Harvey, who is graduating this spring with a master's in education. "I have a feeling that that's one of his reasons for doing this."
Anne Bishop, an evolutionary anthropology senior at U-M, is graduating this spring.
"I can't believe it," said Bishop, an Obama fan whose family is from the Chicago area. "I called all my friends already. They're so excited."
Even members of the U-M College Republicans say they're looking forward to welcoming the president to campus - though they may not agree with his message.
"I'm not his biggest fan, but that's pretty impressive," said U-M sophomore Charles Bogren, the group's co-chair. "Whether I agree with his policies or not, it's great that the university can get somebody as prestigious as the president to deliver the commencement speech. It's no JFK on the steps of the Student Union, but it's still pretty cool."
Brady Smith, former chairman of the College Republicans, said he could hardly believe the news.
"I saw it on Facebook and then I had to double check, but I figured NPR is pretty reliable," he said.
Smith, who will be graduating this semester with a degree in history and political science, said he looks forward to hearing what Obama has to say. He said Obama sent the message during the 2008 primary that "Michigan doesn't matter" by staying off the ballot and not campaigning here.
"He has a lot of explaining to do," he said. "And I'm not so sure that after over a year in office college graduates now are any more optimistic than they were a year ago. He does have some explaining to do, certainly to the Midwest, on the economics."
Ann Arbor's business community welcomed news of Obama's visit - and the opportunity it could bring to promote the region.
"What a fantastic opportunity to showcase our region and to expose him to the innovations and the excitement" in the business community, said Elizabeth Parkinson, vice president of marketing and public relations for economic development firm Ann Arbor SPARK.
Ann Arbor's business community invited Obama to tour local companies when he visited the region in early 2009 during the height of the global auto crisis. He didn't visit the region then, but Parkinson said she's hopeful he'll make time to visit promising local companies in May.
Obama's visit comes as U-M scientists and local companies have been actively seeking federal stimulus dollars to support their research and growth.
U-M said in September that it had received more than $100 million in grants from the $787 billion economic stimulus package. About half of that was from the National Institutes of Health for life sciences work. Another $19.5 million was devoted to establishing a solar energy research center.
Parkinson said Obama's decision to visit Ann Arbor is particularly appropriate due to the administration's financial commitment to the region.
"They're backing us up with their policies and funding, and this is kind of the exclamation point that comes along with that," Parkinson said.
Obama's visit also comes after his administration provided $65 billion in emergency loans to General Motors and Chrysler to keep the Michigan-based automakers from liquidating last year.
Obama spoke at three college commencements in spring 2009: Arizona State University, the University of Notre Dame and the U.S. Naval Academy.
Obama's address comes 10 years and one day after former President Bill Clinton delivered the commencement address at Eastern Michigan University while in office in 2000. Clinton also delivered the U-M spring commencement speech in 2007.
According to U-M, Obama will be the fourth sitting president to visit the Ann Arbor campus. The most recent was George H.W. Bush in May 1991. U-M alumnus Gerald R. Ford launched his re-election campaign at the university in September 1976. Lyndon B. Johnson was the first sitting president to visit U-M when he addressed the graduating class of 1964.
AnnArbor.com's Nathan Bomey and Ryan Stanton contributed to this story.
Editor's note: This story has been updated to reflect a ceremony time change from 10 a.m. to 11 a.m.
Juliana Keeping covers higher education for AnnArbor.com. Reach her at julianakeeping@annarbor.com or 734-623-2528. Follow Juliana Keeping on Twitter