Posted on
Sat, May 1, 2010 : 7 p.m.
President Barack Obama's commencement address 'a great memory' for U-M graduates
By David Jesse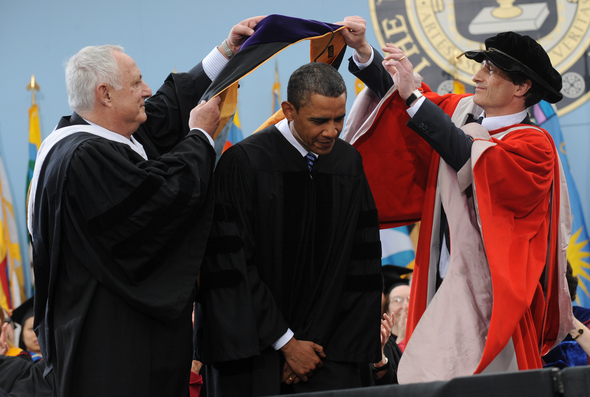 Melanie Maxwell | AnnArbor.com
They dragged themselves out of bed early. They waited out a thunderstorm and endured long lines to get through security. And they found ways to stave off boredom during the long wait for the ceremony to start.
But all those inconveniences were washed away the second the familiar strains of Hail to the Chief rang out in Michigan Stadium Saturday morning. With a wide grin on his face - accompanied by a 66-second long burst of thunderous applause - President Barack Obama strode onto stage to help cap the collegiate careers of the 8,500 students who made up the University of Michigan's 2010 graduating class.
Obama in Ann Arbor
"It really culminated the four years I spent here," said Michelle Brown, an Ohio native who earned a bachelor's degree in biology and now plans to start medical school. "I feel Obama really addressed the issues that students felt were important to hear, and he was funny and entertaining."
Before the ceremony
Graduation day started with a bang - literally, as lightning split the sky and thunder rattled windows.
Those arriving before dawn at the stadium huddled under tents as rain poured down and delayed the opening of the stadium's gates for nearly an hour.
Graduates gathered on Elbel Field near the stadium and then made their way to the ceremony after passing through a gauntlet of photo stations - including one featuring an Obama cardboard cutout with which students could pose.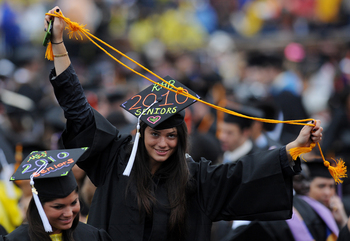 Melanie Maxwell I AnnArbor.com
"The lines were really long there," said Danny Gordon, of East Hills, N.Y., who graduated with a degree in economics. "We left and came over here. We've been inside since 7:30 (a.m.). We're just hanging out, having fun, waiting for it all to start."
As the minutes ticked closer to the 11 a.m. starting time, the crowds began to clog streets around the stadium and the security checkpoints set up at each gate.
The line for the gate at the corner of Main Street and Keech Avenue snaked across Main, then turned back across Main and stretched down Keech, nearly the length of the entire stadium.
Some people reported waiting up to an hour to get in, but the lines kept moving.
"It wasn't too bad," said Lisa Rand, who was there to celebrate with her graduating sister. "I thought it would be a lot longer wait. They seemed to keep us moving forward, so that wasn't too bad."
U-M officials said everyone made it through security by the 11 a.m. start of the ceremony.
Many people had several hours to kill in the stadium after making it through security. Various bands and singing groups entertained the crowd, while graduates posed for pictures, hugged friends and mugged for television cameras.
Some food was available at concession stations, but several people said they ran out of food before the start of the ceremony.
Announcers frequently encouraged those sitting in the stands to squeeze together to fit everyone in.
The stage was set up on the visiting team's sideline, with graduates on the field in front. The sections behind the stage were empty, except for various police officers.
The other sections in the stadium were crammed full. The university estimated the crowd at between 80,000 and 85,000. The White House noted it was the largest crowd Obama has addressed since his inauguration.
Some protesters gathered outside, but not as many as expected.
The ceremony
About five minutes before the start of the ceremony, a video showed various U.S. presidents who have spoken at U-M. The crowd cheered for each appearance, but saved the loudest applause for Bill Clinton.
Right at 11, the ceremony began. Obama was the last to walk on stage and took a seat between U-M President Mary Sue Coleman and Michigan Gov. Jennifer Granholm.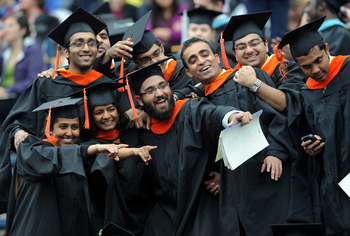 Lon Horwedel | AnnArbor.com
He's only the third sitting president to speak at a U-M graduation. The others were Lyndon Johnson in 1964 and George H.W. Bush in 1991.
Several others - including Coleman and Granholm - spoke before Obama.
Student speaker Alex Marston drew approving smiles from Obama during his speech about change.
"Today we graduates are forced to change to move forward in a new direction, but change is a funny thing," Marston said. "We desire change, yet we fear it. We say things like I just want to make a difference in the world, yet we grow uneasy when the world around us changes … . President Obama was elected on his promise of change we can believe in, but after he took office, he found many resistances to change."
Several speakers thanked Obama for coming - including Granholm, who threw out an easy applause line during her speech.
"Thank you for coming here instead of that school to the south," she said.
After getting an honorary degree, Obama took the podium to another standing ovation, this one lasting 32 seconds.
He challenged students, and those there supporting them, to engage their world and to do so in a civilized way.
During his 30-minute speech, he was interrupted multiple times by applause, spanning over three minutes in total.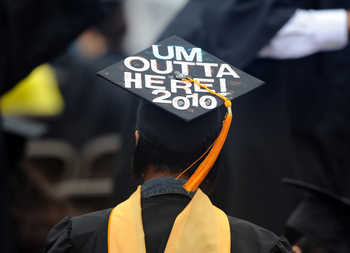 Lon Horwedel | AnnArbor.com
Obama went for applause early, starting his speech with a "Go Blue." After the applause died down, he conceded, "I thought I'd go for the cheap applause line to start things off."
Graduates held cameras and cell phones over their heads to snap photos.
Many in the stadium leaned forward or sat on the edge of their seats as he spoke. In the most serious portions of his speech, a hush fell over the crowd.
"The fact is, when you leave here today you will search for work in an economy that is still emerging from the worst crisis since the Great Depression," Obama said. "You live in a century where the speed with which jobs and industries move across the globe is forcing America to compete like never before. You will raise your children at a time when threats like terrorism and climate change aren't confined within the borders of any one country. And as our world grows smaller and more connected, you will live and work with more people who don't look like you or think like you or come from where you do.
"Class of 2010, I understand that one effect of today's poisonous political climate is to push people away from participation in public life. If all you see when you turn on the TV is name-calling, if all you hear about is how special interest lobbying and partisanship prevented Washington from getting something done, you might think to yourself, 'What's the point of getting involved?'"
"Here's the point. When we don't pay close attention to the decisions made by our leaders, when we fail to educate ourselves about the major issues of the day, when we choose not to make our voices and opinions heard, that's when democracy breaks down. That's when power is abused. That's when the most extreme voices in our society fill the void that we leave. That's when powerful interests and their lobbyists are most able to buy access and influence in the corridors of power -- because none of us are there to speak up and stop them."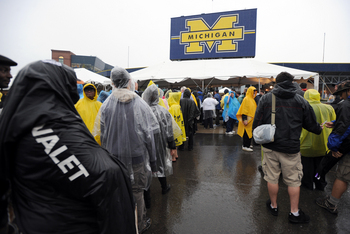 Lon Horwedel | AnnArbor.com
After the speech, several who heard it gave it high marks.
"He did a very good job of explaining the importance of really going out there and making a difference - not just for your career, but also for the country and for others and the community," said graduate Domenic Terenzi of Rochester, who earned a degree in biology. "For example, I have a red service cord for my time with the alternative spring break service organization, and it was really affirming of the idea that that kind of work - both community service work in addition to academic work - really does have an impact on democracy and the country. And it was very inspiring to me personally for that reason."
But Catherine Roosevelt, who graduated with a master's degree in higher education, was less enthusiastic. She said Obama's speech didn't compare to Bill Clinton's at U-M in 2007. She recalled crying after being inspired by Clinton when she received her bachelor's degree.
"It was lackluster," she said of Obama's talk. "I kept waiting for the 'go out and change the world' part. I give it a 7 out of 10."
After the ceremony
Even though several other people received honorary degrees - and graduates from each college at U-M were then recognized - large portions of the crowd began to file out as soon as Obama's speech ended.
They gathered on the concourse of the stadium, waiting to celebrate with graduates.
People flowed down Main Street, stopping to gawk as Obama's helicopter took off and headed back to Detroit Metro Airport.
They stood six or seven deep at shuttle stops, waiting for rides back to their hotels.
And as the afternoon moved on, they settled in for parties, some on front lawns of student housing and others in downtown restaurants.

Michelle Davis was among the latter. She was sipping some white wine while waiting for her daughter, who graduated with an economics degree, to find her way to a late lunch.
"It turned out to be a great day," she said. "I thought maybe it wouldn't be, with all the rain this morning and I was worried about how long we'd have to wait to get through security, but it wasn't bad. It was great way for us to celebrate with our daughter. What a great memory it will be for her and us."
AnnArbor.com reporters Erica Hobbs and Ryan Stanton contributed to this story. David Jesse covers K-12 education for AnnArbor.com. He can be reached at davidjesse@annarbor.com or at 734-623-2534.