Posted on
Mon, Jan 25, 2010 : 12:20 p.m.
Better prevention could cut back in health care costs, Ann Arbor health research group finds
By Tina Reed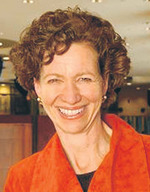 Marianne Udow-Phillips is the director of the Center for Healthcare Research & Transformation in Ann Arbor.
A focus on better prevention could save big on health care spending in Michigan, according to a report released today by an Ann Arbor-based health care research group.
Issues related to heart disease were the most common reasons for hospitalization in 2007 both nationally and statewide, according to the report from The Center for Healthcare Research & Transformation.
The Center for Healthcare Research & Transformation is a partnership between the University of Michigan and Blue Cross Blue Shield of Michigan to research health care effectiveness and efficiency.
In Michigan, three of the top 10 reasons for hospitalization were related to coronary health and resulted in more than 102,000 hospitalizations in 2007. Pneumonia resulted in the hospitalization of more than 37,000 patients, and mental health issues were also among the most frequent hospitalizations in Michigan at more than 28,000.
Poor coronary health has been linked to poor diet, tobacco-use, lack of exercise and co-occurring diseases like diabetes, among other things. Pneumonia often develops when a patient with respiratory illness is not treated quickly or a high-risk patient isn't given a vaccine to help reduce the chances of respiratory illness. Mental disorders can often be controlled before they become acute-enough to land a patient in the hospital.
These are examples of areas where employers, providers and patients could help reduce costs in health care with wellness programs, increased vigilance and patient responsibility, Udow-Phillips said.
The report also highlights the importance of considering cheaper alternatives when it comes to health care procedures.
In Michigan, for example, two of the top three highest total cost procedures - spinal fusions and a type of coronary angioplasty, costing $836.1 million and $1.19 billion in Michigan, respectively - are both often preventable.
For instance, research has found big increases in the rate that spinal fusions are being performed in the U.S. And less expensive and invasive alternatives to spinal fusion are often not strongly considered by patients with back problems - even when those alternatives are potentially as effective forms of treatment, Udow-Phillips said. The angioplasty procedure is often not necessary and can carry risks, she said.
"We have a general bias to doing, rather than waiting," Udow-Phillips said.
Some positive news for Michigan when it comes to health care spending — charges per Michigan hospital stay for the most costly diagnoses in 2007 were consistently lower than the national averages for the top most costly diagnoses.
For example, the report found, infant respiratory distress syndrome was the most expensive diagnoses in the U.S. at an average cost of $138,224 per hospitalization in 2007. In Michigan, the cost of treating the same syndrome was about $99,103 per hospitalization in 2007.
However, the state follows national trends when it comes to top prescribed mediciations, she said, with the pain-killing narcotic Vicodin as the top prescribed medication in the state. There is evidence that pain reducing alternatives, including behavioral therapy and acupuncture, are often not being considered by clinicians for pain management, Udow-Phillips said.
Tina Reed covers health and the environment for AnnArbor.com. You can reach her at tinareed@annarbor.com, call her at 734-623-2535 or find her on Twitter @TreedinAA.