Posted on
Tue, Jul 19, 2011 : 2:58 p.m.
Prolonged heat activates Washtenaw County emergency response plan as forecast calls for heat index near 105
By Juliana Keeping
Washtenaw County is activating its emergency response plan today following two full days under a National Weather Service heat advisory.
The heat advisory went into effect midday Monday and will remain in effect until Wednesday morning. Issuing a heat advisory is a move made by the NWS after the heat index — a measurement combining temperature and humidity — reaches 100 degrees or higher for three or more hours.
Marc Breckenridge, emergency services director of the Washtenaw County Sheriff's Office, said prolonged high temperatures spark coordination among county agencies under the county's emergency response plan. The first step: a conference call today at 4 p.m.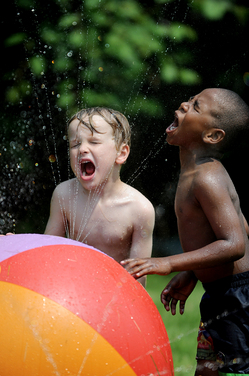 Melanie Maxwell | AnnArbor.com
The call means agencies will discuss how to coordinate their monitoring of the public's needs in the face of high temperatures and a hotter forecast. No further actions — such as opening cooling centers — have been decided yet.
A power grid stressed by days of heavy use and heat could change that later this week, he said, if outages occur.
In the meantime, Breckenridge urged residents to drink plenty of water and take frequent breaks from the heat by sitting in the shade or in air-conditioning.
"With the Art Fair and the Manchester Chicken Broil, people have to take it easy," Breckenridge said. "They should take water with them and look for shaded areas so they can take breaks. If they don't feel healthy, and want to engage in recreation, they should go with somebody."
While Tuesday afternoon's temperatures flirted with 90 degrees, it's going to get even hotter the rest of the week.
On Wednesday, the National Weather Service will bump its advisory to an extreme watch, meaning the heat index is expected to soar to 105 degrees, said Matt Mosteiko, a meteorologist with the service's White Lake Township office, which monitors southeast Michigan.
An extreme heat warning could be issued if the heat index reaches 110 degrees for a prolonged period of time.
Forecasters predict a heat index from 105 to 107 degrees in Washtenaw County on Thursday, though the thermometer is expected to read 94 to 98 degrees, Mosteiko said.
Friday will offer a slight cooldown, with temperatures in the low 90s expected to feel more like 98 to 103 degrees. Friday also will see a 40 percent chance of thunderstorms.
On Saturday, the heat will feel as high as 95 degrees, with the actual reading as high as 91.
Under the county's emergency response plan, cooling centers could be opened by the American Red Cross if the heat wave sparks a power outage, Breckenridge said.
During power outages that occur during heat waves, residents are urged to stay with family members or friends who have air-conditioning, or to visit cool spots like the mall, Breckenridge said. The cooling centers are made available for residents that don't have those options or lack transportation.
Breckenridge said he was not aware of any local outages sparked by the heat Tuesday afternoon.
On hot days, the NWS advises people to reschedule strenuous outdoor activities for early morning or evening, learn signs and symptoms of heat exhaustion and heat stroke, wear lightweight or loose clothing, and drink plenty of water, Mosteiko said.
Agencies that coordinate under the county's emergency response plan include the American Red Cross, the Washtenaw County Public Health Department, the Ann Arbor Transportation Authority, Huron Valley Ambulance, the Humane Society of Huron Valley, Ann Arbor Emergency Management, and emergency services with the sheriff's department.
Juliana Keeping covers general assignment and health and the environment for AnnArbor.com. Reach her at julianakeeping@annarbor.com or 734-623-2528. Follow Juliana Keeping on Twitter