Posted on
Fri, Oct 30, 2009 : 3:47 p.m.
Promise Scholarship program cut; 6,096 University of Michigan students impacted
By Juliana Keeping
More than 8,000 Washtenaw County college students are losing out on tuition cash they banked on after a popular statewide scholarship program met its demise today.
Gov. Jennifer Granholm signed a higher education bill today that doesn't include $140 million for the Michigan Promise, a merit-based scholarship program that offered 96,000 in-state students up to $4,000 for college.
At the University of Michigan, 6,096 students will lose Promise money; at Eastern Michigan University, 1,662 students; at Washtenaw Community College, 660 students; and at Concordia University Ann Arbor, 75 students.
Of the students at U-M, only 1,662 of those who lost the scholarship qualify for other financial aid.
U-M officials expressed disappointment in the program's end, but said the university anticipated it. U-M set aside an additional $2 million in its budget this year to make up for lost Promise aid for those 1,662 students, spokesman Rick Fitzgerald said. The rest of the students will have to come up with money themselves.
"We remain concerned about the status of the Michigan Promise scholarships, and are disappointed that students who expected this support this year are left vulnerable," Cynthia Wilbanks, U-M's vice president for government, said in a written statement. "Every economically successful state finds a way to keep investing in higher education, and if we are to turn around our state's economy, Michigan must do the same."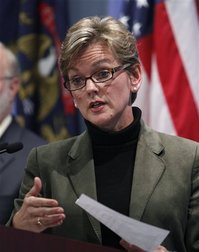 Al Goldis | Associated Press
Last year, WCC, EMU and U-M fronted money for Promise grant recipients and were later reimbursed by the state. This semester, students had to pay what the scholarships provided or apply for more aid if they didn't have the money. If the program came through, they would have been reimbursed.
Beginning in 2007, students who met or exceeded state standards on the Michigan Merit exams could earn $1,000 during their freshman year and $1,000 in their sophomore year from Promise grants. Students have to maintain a 2.5 grade point average by the end of their sophomore year to receive the remaining $2,000.
But the program had a previous incarnation, one that had been in place since 2000.
The Promise Scholarship replaced former Gov. John Engler's Michigan Merit Award program that provided up to $3,000 for college if students did well on Michigan Educational Assessment Program tests taken in junior high and high school.
Both programs were funded in full by a giant settlement reached in 1998 between five tobacco companies and 46 states, the District of Columbia and several U.S. territories. The companies agreed to pay $206 billion by 2025 to settle lawsuits related to the financial toll of treating smoking-related illnesses.
Michigan has received $2.9 billion in settlement payments since 1999, said Terry Stanton, a spokesperson for the Michigan Department of Treasury.
This year, the Legislature had to fill a $2.8 billion shortfall to pass a balanced budget, though $1.4 billion of that hole was filled with stimulus money.
Granholm said she vetoed $127 million in spending for the 2010 fiscal year. She began signing 15 budget bills earlier this month, but signed the last six today to avoid a government shutdown. The state has been operating on an interim budget since Sept. 30; it would have expired late Saturday. Today, she also signed community health; energy, labor and economic growth; human services; police and general government budgets.
Granholm called cuts made in the bills by the Senate "too deep and too painful" for the most vulnerable of Michigan's residents in a phone-in press conference this morning.
Suggesting her hands were tied by a Republican-controlled Senate leadership, she said, "Had I been able to veto money in or special interest tax loop holes out, I would have."
Did you or your children receive Promise money? If so, Juliana Keeping would like to speak to you; reach her at the contact information below.
Juliana Keeping covers higher education for AnnArbor.com. Reach her at julianakeeping@annarbor.com or 734-623-2528. Follow Juliana Keeping on Twitter