Posted on
Wed, Nov 7, 2012 : 7:42 a.m.
Proposal 1 defeated: Michigan voters repeal emergency manager law
By Cindy Heflin
Related coverage: Michigan ballot proposals 2-6 defeated
Michigan voters repealed the state's controversial emergency manager law in a referendum Tuesday.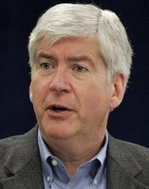 With 93 percent of precincts reporting Wednesday morning, Proposal 1 had 2,182,504 "no" votes and 1,983,228 "yes" votes, a 52-48 percent margin, MLive reported.
Voters rejected all six proposals on Tuesday's ballot. The proposal 1 result was a defeat for Gov. Rick Snyder who signed the emergency manager legislation into law and had campaigned to keep it.
The repeal of the law also calls into question the status of emergency managers already in place in several cities and school districts, including Detroit schools, the Detroit Free Press reported.