MLive:

Proposal 6 seeks to require voter approval of new international bridge

Posted on Mon, Oct 8, 2012 : 11:57 a.m.
Among ballot proposals facing Michigan voters in the Nov. 6 election is one that could affect the proposed construction of a new bridge between Detroit and Windsor.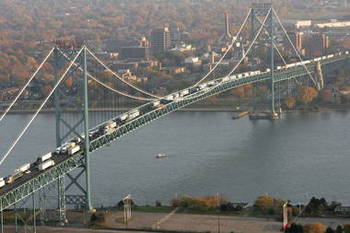 AP photo
Proposal 6, also called the "People Should Decide" measure, would amend the state constitution to require a statewide and local vote before any new international bridge or tunnel for motor vehicles is constructed.
Dave Eggert looks at arguments for and against the proposal in an MLive report.
The ballot initiative is an attempt by the owner of the Ambassador Bridge, at the moment the sole bridge between Detroit and Canada, to halt plans for a new bridge. Michigan and Canada signed a deal to build a new bridge in June.
In the end, the vote may not matter, however, MLive reports. Supporters of the project say the interlocal agreement is binding regardless of the outcome.