Posted on
Tue, Aug 21, 2012 : 6 a.m.
Proposal to evaluate selling off former YMCA site in downtown Ann Arbor goes down in defeat
By Ryan J. Stanton
Ann Arbor City Council Member Stephen Kunselman met resistance Monday night when he suggested the city consider selling off the former YMCA site downtown.
His resolution quickly went down in defeat, with a majority of council members putting their faith in an ongoing planning process being undertaken by the Downtown Development Authority.
"We've asked the DDA to take a good, long look at this property, and in my view it's proper, prudent and polite to wait for it," said Council Member Christopher Taylor, D-3rd Ward.
The lot at the northwest corner of Fifth Avenue and William Street was purchased by the city in December 2003. In Kunselman's opinion, it's been a money pit ever since."This particular piece of land is costing us a lot of money," he said. "Our other vacant surface parking lots are not, so we're in no rush to put those up for sale."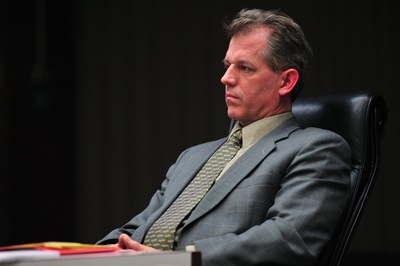 Ryan J. Stanton | AnnArbor.com
Kunselman pointed out the city has a $3.5 million balloon payment due in December 2013. In addition, he said, the city will have made another $1.36 million in interest-only payments on the land.
"I think we need to start thinking about that now because December 2013 is going to come up pretty quick, and if we have to pay interest-only payments … it's not going to bode very well," he said.
"If we just look at the balloon payment and the interest payment … we'll have $4.86 million in a piece of land that is certainly not worth it," he said.
The city demolished the old Y building with plans of developing the site and expanding affordable housing options within the downtown, but that idea never panned out and the site remains a parking lot.
Kunselman estimated the city has spent $1.3 million just on rental payments to house the former occupants, plus nearly three-quarters of a million dollars for the demolition work.
The DDA is in the middle of going through its Connecting William Street planning process, which is looking at development opportunities for city-owned sites downtown.
Kunselman's resolution, defeated in a 7-3 vote, would have directed the city administrator to act independently of the DDA's ongoing efforts and evaluate and report back to City Council on potential uses for the Y Lot, including a timeline for putting the land up for sale if no use is found.
"This is not to impinge upon the Connecting William Street effort," he said. "That process still moves forward, still looks at this land. They're coming forward with some recommendations at the end of October."
But he said the city's staff still should look into putting the property up for sale. Only Council Members Jane Lumm and Mike Anglin supported his resolution.
Council Member Sandi Smith, D-1st Ward, called Kunselman's proposal premature and unnecessary. She argued the city has more than a year before the balloon payment is due, and until then the city should let the DDA finish its process. She was reappointed for a four-year term on the DDA board Monday night.
"I think it just adds another layer on, as well as sending a clear message that there's no faith in the process that's under way currently," Smith said of Kunselman's resolution.
"The other component of this that's missing is who actually is paying the interest on the property," Smith said. "As far as I know, 50 percent of it is being paid by the DDA. And of course the city is a beneficiary of 17 percent of the parking revenues that are derived from the parking on the surface lot."
Ryan J. Stanton covers government and politics for AnnArbor.com. Reach him at ryanstanton@annarbor.com or 734-623-2529. You also can follow him on Twitter or subscribe to AnnArbor.com's email newsletters.