Posted on
Mon, Apr 8, 2013 : 5:58 a.m.
Proposals for riverfront MichCon site in Ann Arbor include restaurant, offices, housing and more
By Ryan J. Stanton
Ryan J. Stanton | AnnArbor.com
DTE Energy
says it's gotten a strong response from developers interested in building a mixed-use project on the
riverfront MichCon site
it owns in Ann Arbor.
"We've received several responses to our request for information regarding development of the site," said Randi Berris, a DTE spokeswoman.
"It's an interesting mix of proposals. They all include some sort of mixed use, as well as green space," she said. "Restaurants and office space and retail are in some of them."
A proposal from Ann Arbor developer Peter Allen is among those under consideration. Allen said he's reserving comment on the specifics of his team's proposal at this point, but he called it a "very ambitious plan" that is both environmentally sensitive and market sensitive.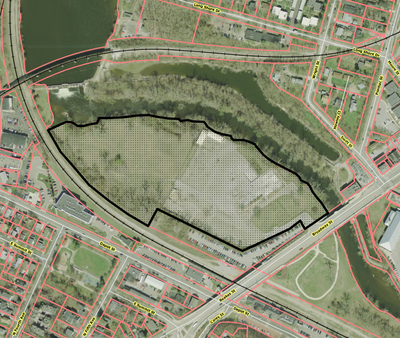 Courtesy of city of Ann Arbor
"We followed the specs of the RFI very carefully and went beyond," Allen said, acknowledging it includes everything DTE asked for — restaurant, retail, office and residential uses, along with open space.
DTE recently completed an environmental cleanup on the site along the Huron River, and it has indicated a willingness to set aside a portion of the land for public open space.
A city task force is starting to form a conceptual plan for a new riverside park there, possibly including a new canoe livery.
DTE also has asked interested developers to submit ideas for developing part of the site, so it's possible a mix of uses could share the property — some public, some private.
DTE isn't giving details at this point on the exact number of responses it received or specifics about what's being proposed. However, it has expressed interest in a development that could include restaurant, retail, residential, commercial office space and medical office uses.
Its stated goal is to bring about a first-class, mixed-use development capitalizing on the unique features of the riverside property, and incorporating significant green space open to the public.
If his vision comes to fruition, Allen said, it would connect the city and neighborhoods to the riverfront in a "glorious fashion." He said he doesn't see the additional environmental cleanup work that's still needed as any kind of financial or logistical hurdle, but rather an opportunity.
"We want to create a wonderful riverfront front door that's as significant as the Diag is to campus," he said of the site, which is a stone's throw from properties he owns on North Main.
"I've been in love with the property for 25 years, passionate about seeing something grand happen on it," Allen added.
Berris said DTE still is reviewing the responses that came in from developers. She said she expects to have more information to share in the coming months.
At this point, they're not formal proposals — only initial responses from developers regarding what they could do with the site if given the opportunity, Berris said.
Ronald Mucha, a senior vice president and principal of Morningside Equities Group, which has offices in Ann Arbor, said his firm submitted a proposal, but it's too early to comment.
Another firm rumored to have submitted a proposal to DTE is Farmington Hills-based Grand Sakwa Properties LLC, though company officials couldn't be reached for comment.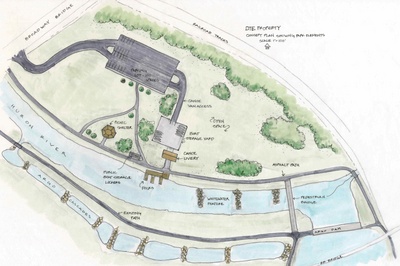 City of Ann Arbor
John Drain
, a commercial real estate analyst at the
REDICO real estate firm
in Southfield, said his firm submitted a proposal with Ann Arbor-based architecture firm Hobbs & Black.
Drain didn't give specific details, but he said their proposal envisions the kind of mixed-use development DTE asked for in its request.
"We hope DTE takes it into consideration and we can keep talking," he said. "We really tried to consider the context and do something the market will support, so we tried to be realistic and be considerate of the ecology of the site and the amenity value of it."
Allen's team includes several local names, including landscape architecture firm Johnson Hill, engineering firm Nederveld Associates Inc., and ASTI Environmental.
He also is partnering with Fred Kent of Project for Public Spaces, and restaurateurs Jon Carlson and Greg Lobdell.
Carlson and Lobdell are the faces behind a half dozen restaurant and bar establishments in downtown Ann Arbor, including Blue Tractor, Cafe Habana, Lena, Jolly Pumpkin, Grizzly Peak and Mash. They also own a handful of restaurants in Royal Oak and Traverse City.
Allen said Peter Pollack, an accomplished landscape architect from Ann Arbor who passed away in 2010, was instrumental in helping him understand the site's potential. Some have suggested naming a future riverfront park on the MichCon site in Pollack's honor.
Drain, who went to the University of Michigan and lived in the Kerrytown neighborhood, said he's walked by the MichCon site many times and also sees its potential.
"I like the Argo Pond and the trails down there," he said. "It's a really nice area. Whoever builds something at the site needs to be sensitive to the character of the place."
The MichCon site encompasses about 14.2 acres along the Huron River at 841 Broadway St. The site is located in a mixed-use area and is zoned for light industrial use.
The site includes a western parcel that is generally grassy and undeveloped, while a large portion of the eastern parcel is paved. The eastern parcel was used until 2009 as a service dispatching center for DTE Gas and was historically used as a manufactured gas plant.
Ryan J. Stanton | AnnArbor.com
The Huron River bounds the site to the north/northeast, an Amtrak train station is located south/southwest of the site, and Broadway Street is located to the east.
Berris said DTE remains committed to having "significant green space" on the site, and all of the initial submittals did include "a good amount of green space."
Whether that space is created through a private development effort or some other means is still being discussed. DTE has asked for creative financing strategies using public and private funding.
The remediation work recently done along the river's edge didn't address contamination elsewhere on the property. For instance, there are cyanide-contaminated soils on the western portion of the property. That might require additional cleanup depending on the future use of that area.
DTE officials have said the additional remediation work likely would be performed as part of the redevelopment phase during site preparation activities.
Allen said DTE did a great job of tapping the private sector to spend time and money analyzing the site to understand the problems and opportunities associated with it.
As for what happens next, "It's up to them. They own the land. They're in control."
Ryan J. Stanton covers government and politics for AnnArbor.com. Reach him at ryanstanton@annarbor.com or 734-623-2529. You also can follow him on Twitter or subscribe to AnnArbor.com's email newsletters.