Posted on
Mon, Feb 14, 2011 : 6:22 p.m.
Ann Arbor-area lawmakers propose legislation to expand rights of adoptive gay parents
By Juliana Keeping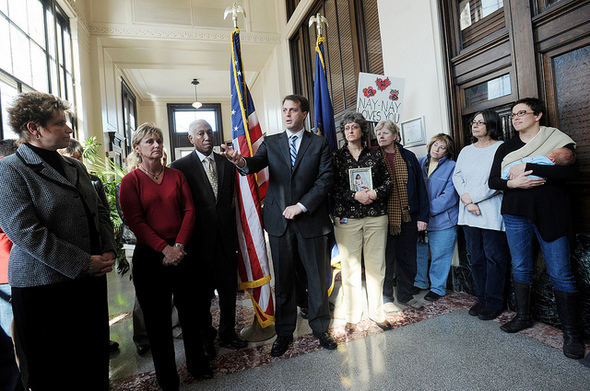 Melanie Maxwell I AnnArbor.com
Gay couples' legal rights as parents would be expanded under proposed legislation, Ann Arbor-area lawmakers announced today.
Under the state's current adoption laws, only a single person or a married couple can adopt a child. Second-parent laws in Michigan already allow a step-parent to adopt a biological or adopted child of his or her current spouse. House Bill 4249 would expand those rights to same-sex couples and others.
"Gays and lesbians don't have the same rights as heterosexual couples," said Rep. Jeff Irwin, D-Ann Arbor, the sponsor of the bill, responding to a question on expected criticism of the proposed legislation. "I think it's discriminating and there's no legal basis for it."
The gay partner of a child's biological or adoptive parent can't legally make medical decisions for the child. And the children aren't legally guaranteed benefits like health insurance, Social Security, and financial security from both parents. Gay couples can't legally marry in Michigan.
If a gay couple's relationship ends after they have agreed to have a child together, the non-biological or non-adoptive parent has no legal right to see the child, said Stephanie Atkinson of Pittsfield Township.
She and a former partner had a child using a sperm donor before the relationship ended, but Atkinson's partner was the biological mother. Atkinson said she was allowed by her ex to maintain a relationship with their daughter for a time, but she hasn't seen the child in five years.
"I love my daughter to this day and I hope when she's 18 I can see her again," Atkinson told a crowd of about 20 people who gathered with lawmakers Monday afternoon in the Washtenaw County Administration Building lobby, 220 N. Main St., to announce the bill.
The bill would also extend rights to other groups. A grandparent raising a child alone, for example, could share legal parenting rights with another relative, should a court find that it was in the best interest of the child.
State Sen. Rebekah Warren, D-Ann Arbor, is also sponsoring a complementary bill in the Senate. If passed, it would not apply retroactively to individuals in situations like Atkinson's, Warren said.
Warren said it's time for the state to stop "shutting the doors" to parents who are financially and emotionally able to support a child. She sponsored a version of the bill in her previous role as a state representative, but it never got off the ground.
Warren said support waned during the 2009-2010 election season.
The lawmakers and those in attendance said second-parent adoption isn't about gay marriage — it's about kids and the stability that two-parent households can offer.
"I'm not asking for acceptance. What I'm asking for is for my son to have two legal parents," said Renee Brodie of White Lake, who came to the event to support a friend.
Senate Majority Leader Randy Richardville, R-Monroe, said via e-mail he would review the proposed bill.
"This is certainly legislation we would be open to review and discussion on.  We would want to see in what form it is passed from the House to our chamber. But we would give it a thorough discussion with our caucus."
This story has been updated with a comment received Monday afternoon from Sen. Richardville. Stephanie Atkinson's name has been corrected in this story.
Juliana Keeping is a health and environment reporter for AnnArbor.com. Reach her at julianakeeping@annarbor.com or 734-623-2528. Follow Juliana Keeping on Twitter.