Posted on
Sat, Jun 2, 2012 : 5:57 a.m.
Prosecutor: Historic medical marijuana rulings not 'tectonic shifts' in Washtenaw County
By Kyle Feldscher
The Michigan State Supreme Court's rulings Thursday on two facets of Michigan's medical marijuana law won't be changing too much for Washtenaw County, according to one prosecutor.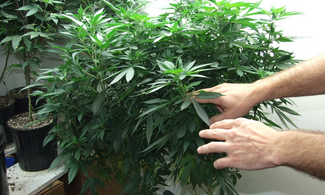 AnnArbor.com file photo
The justices ruled patients who have a medical marijuana card can have criminal charges dismissed if they have no more than 2.5 ounces of usable marijuana and 12 plants in an enclosed, locked facility. In a separate ruling, the justices ruled a patient without a state registration card must have a doctor's statement showing the patient has a serious medical condition and possess only a necessary amount of marijuana before the offense.
Washtenaw County Chief Deputy Assistant Prosecutor Steve Hiller said Friday the ruling on when the doctor's statement, or a medical marijuana card, needs to be issued to the patient helps clear up that aspect of the law. Other than that, much of what Washtenaw County prosecutors deal with won't be changing, he said.
"I don't see it as being a tectonic shift in the landscape," Hiller said. "It clears up a few things."
"It's always good for everyone to know what the lay of the land is," he added.
The rulings by the justices were the first and second decisions on the Michigan Medical Marijuana Act since voters passed it in 2008. It's the first step in a long process to clear up the broad language in the law that has left many officials confused on exactly how to enforce the statute.
Both sides of the aisle have hailed the decisions as their own victories, with a spokesman for Michigan Attorney General Bill Schuette stating the ruling on when a doctor's note or medical marijuana card must be obtained supports the Republican's stance on the law in an MLive report. A lawyer for the American Civil Liberties Union stated the ruling on the number of plants and amount of marijuana was a victory for patients, in the same report.
Hiller said the ruling on how many plants can be grown, and how they can be grown, would apply to some cases prosecutors have seen where defendants claimed marijuana plants were being grown for medicinal purposes but were not meeting the guidelines set by the statute.
However, more interesting decisions on that front will be coming down the pipe, Hiller said.
The state's Court of Appeals has ruled a caregiver can have up to 12 plants per patient, but each patient's plants have to be locked and secured in an enclosed area only accessible to the patient and the caregiver, Hiller said. This ruling outlaws large grow operations that medical marijuana dispensaries would prefer, Hiller said.
The Supreme Court might not have taken up that particular case yet, but it's going to be a major one for the future of medical marijuana in the state, he said.
"We're going to have to see how things progress from this point," Hiller said. "There's certainly more to come."
Kyle Feldscher covers cops and courts for AnnArbor.com. He can be reached at kylefeldscher@annarbor.com or you can follow him on Twitter.