Posted on
Thu, May 3, 2012 : 1:25 p.m.
Prosecutor Michael Woodyard to challenge Circuit Judge Timothy Connors for spot on bench
By Ryan J. Stanton
Local attorney and prosecutor Michael Woodyard has filed to run this fall for judge of the 22nd Circuit Court serving Washtenaw County.
Woodyard, who is the first candidate to come forward challenging Judge Timothy Connors, has spent the past decade working for the Wayne County Prosecutor's Office.
"My years as a prosecutor have convinced me that when good people serve those in need, the whole community prospers," Woodyard said in a statement.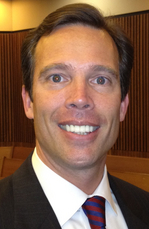 Connors was appointed to the Circuit Court in 1997 by former Gov. John Engler. He previously served as chief judge of Ann Arbor's 15th District Court.
Woodyard said as far as he can tell, no one has ever challenged Connors for his spot on the bench.
"My assessment is that nobody's ever run against him, and I think my candidacy represents an opportunity for the voters in Washtenaw County to have a choice in a very import public office, an office that a lot of people don't really pay attention to until they're in a bad way," he said.
Woodyard says he's prosecuted domestic violence, child abuse, infant homicide and public corruption cases. Before being assigned a criminal docket, he spent three years handling civil cases, including public nuisance abatement, environmental compliance and asset forfeiture.
Woodyard, who lives in Ann Arbor, earned a bachelor's degree in English from Eastern Michigan University in 1996 and a law degree from Wayne State University in 2002.
While in law school, he interned for Gerald Rosen, chief judge of the U.S. District Court for the Eastern District of Michigan. He was a newspaper reporter between college and law school, working in Ohio, New York and Michigan.
The Washtenaw County Board of Commissioners appointed Woodyard to the county's Criminal Justice Collaborative Council last year.
He also is an appointed member of the state of Michigan's Citizen Review Panel on Child Fatalities, volunteers with Washtenaw Literacy and has served as an elected member of the Wayne County Government Bar Association's board.
"I am truly encouraged by the support so many people showed while I was gathering 1,200 petition signatures to get on the ballot," Woodyard said. "I am honored to have this opportunity to serve and to be a voice for justice in Washtenaw County."
Woodyard declined to disclose his political leanings, saying it's a nonpartisan post and he doesn't think justice has a "D" or an "R" next to it.
Washtenaw County Circuit Court judges Timothy Connors, Melinda Morris and Darlene O'Brien all have their terms end at the beginning of 2013. Morris is retiring, leaving open a seat that four local attorneys are competing against one another to fill.
Ryan J. Stanton covers government and politics for AnnArbor.com. Reach him at ryanstanton@annarbor.com or 734-623-2529. You also can follow him on Twitter or subscribe to AnnArbor.com's email newsletters.