Posted on
Sat, Nov 5, 2011 : 12:35 p.m.
Protest held against big banks in downtown Ann Arbor on Saturday
By Lisa Carolin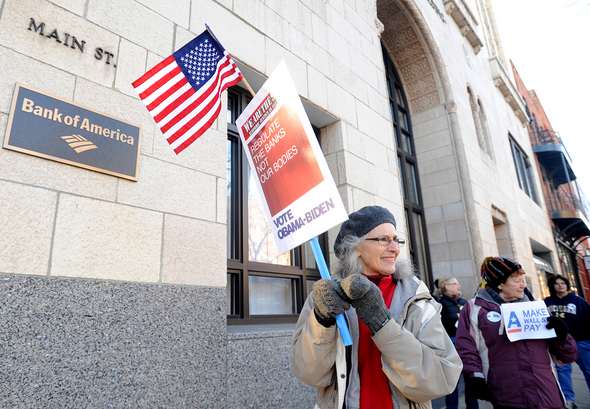 Angela J. Cesere | AnnArbor.com
A growing nationwide anger against big banks found some support in Ann Arbor on Saturday with a protest outside the
Bank of America
branch downtown at Main and Washington streets.
More than 50 people gathered to protest such things as monthly fees for debit cards, tax breaks for the rich, and as they chanted, "Less money for banks, and more money for jobs."
The protest was peaceful and the bank branch remained open, although there were virtually no customers spotted coming or going.
No one at the local Bank of America office would comment about the protest referring a reporter to media relations spokeswoman Diane Wagner.
Wagner wouldn't comment on the protest other than to say: "Bank Transfer Day is an industrywide event."
She did say Bank of America offers "many advantages" for customers.
"We have a variety of locations and the best online and mobile banking, which enables customers to bank on their own terms with us."
Today is being called Bank Transfer Day in a nationwide effort to encourage account holders to move their money out of big commercial banks and put their money into small banks and credit unions, which are not-for-profit cooperatives owned by members.
The main protest, organized by MoveOn.org, occurred at the Bank of America branch. Other protesters also stood outside of the Chase bank across the street.
"Banks are not for the people," said Ypsilanti resident Lyle Tindell. "I belong to a credit union. Members own it and have a little sayso."
"I recently changed our checking account to a local bank," said Cathy Muha from Chelsea. "It's so much more personal. I try to do everything local."
Angela J. Cesere | AnnArbor.com
Other protesters spoke out against Countrywide Mortgage, which was taken over by Bank of America in 2008 after Countrywide announced that borrowers were delinquent on one-third of the subprime loans it serviced.
"I bought a house here six months ago and took out a mortgage with a local bank because I didn't want my mortgage sold to a big company," said Ann Arbor resident Quincy Northrup.
"What Countrywide and Bank of America did was outrageous, and no one has been punished, and their executives are overpaid," said Doug Kelley, one of the vice chairs of the Washtenaw County Democratic Party.
Bank of America Corp. was also a target of protesters because of a $5 monthly debt-fee it introduced on Sept. 29. The plan was dropped by the bank this week.
Many of the themes of Bank Transfer Day are similar to those of the Occupy Wall Street movement.
"If I lived in New York, I'd be a part of the Occupy Wall Street group," said Ann Arbor resident Patricia Ballard. "When you come out in force, it makes a difference."
"I'm tired of what's going on in this country," said Frank Raymond of Ann Arbor. "So many people are having a hard time, and it wasn't their fault. The people who caused their problems just keep getting richer."
Fritz McDonald, who works with MoveOn.org and was one of the organizers of today's event, said that one of the main messages is to let people know that the current economic and employment crisis are not the fault of the workers.
"The responsibility for causing these problems falls largely on giant banks like Bank of America," said McDonald. "The power of these banks has increased the inequality between the wealthy and the poor in the USA. If we want to make America great again, we need to stop supporting corrupt institutions like Bank of America."
McDonald along with other participants planned to close their Bank of America accounts today