Posted on
Tue, Jan 4, 2011 : 6:02 a.m.
Protesters change tune, applaud Ann Arbor City Council for revisions to medical marijuana ordinance
By Ryan J. Stanton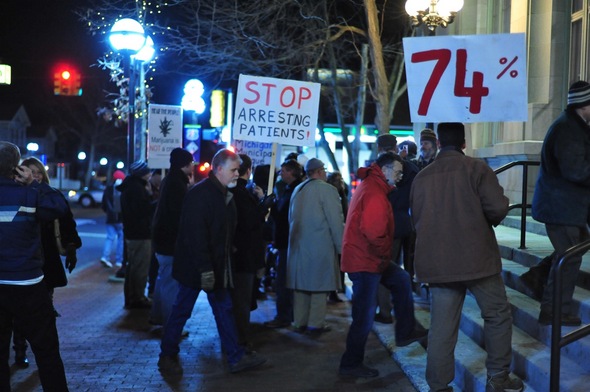 Ryan J. Stanton | AnnArbor.com
Dozens of medical marijuana advocates protested downtown before Monday night's Ann Arbor City Council meeting, decrying the city's proposed licensing regulations for the pot industry.
Marching up and down the sidewalk along Main Street, they chanted and carried signs with phrases like "Marijuana is NOT a crime!" and "Stop arresting patients!"
Several of those who protested — including dispensary owners, patients and advocates from throughout Michigan — also spoke before the council at the start of the meeting. Among their fears was that the city's proposed licensing rules would require their names to be on a list of caregivers and patients that could end up in the hands of federal agents.
"I don't want to have to join a registry with your city," said Brandy Zink of the Michigan Chapter of Americans for Safe Access, a pro-medical marijuana organization. She said she's a cancer survivor and epilepsy patient and frequently visits dispensaries in Ann Arbor.
Over the course of two hours, council members debated and carefully reworded the controversial licensing ordinance in a way that appeared to please the pro-cannabis crowd.
Despite making several changes, the council held off on voting on the reworked version. At the urging of Mayor John Hieftje, council members postponed the vote until Jan. 18, giving the city attorney's office a chance to fine-tune it some more.
If it passes on Jan. 18, a second reading and final approval likely will follow in February. The council also is expected to vote on medical marijuana zoning regulations by then.
Council Members Sabra Briere and Sandi Smith, both 1st Ward Democrats, offered up a series of amendments to the ordinance, which had been drafted by the city attorney's office.
The changes included eliminating licensing mandates for home grow operations. The council voted 6-4 to ensure the ordinance applies only to dispensaries and cultivation facilities.
The audience burst into applause at one point, causing Hieftje to remark: "We don't have interjection from the audience during the body of our meeting."
Joining Briere and Smith in exempting so-called "home occupations" from licensing was Hieftje and Council Members Christopher Taylor, Stephen Kunselman and Margie Teall.
Ryan J. Stanton | AnnArbor.com
Those who opposed the move were Tony Derezinski, Stephen Rapundalo, Marcia Higgins and Carsten Hohnke. Council Member Mike Anglin was absent.
Medical marijuana advocate Chuck Ream, who organized the protest before Monday's meeting, applauded the council for the changes — particularly for backing away from what he considered intrusive regulations for home grow operations.
"That was truly the key … because they didn't have any right to mess with home occupations and individual caregivers and patients," he said. "They simply can't go into people's homes — who are regular caregivers and patients, who are fully regulated by the state — and add additional requirements for zoning compliance permits and inspections."
Briere agreed the biggest change made Monday night was removing home occupations from the licensing ordinance. She said it seemed the city had good intentions in seeking a list of names and addresses of licensed houses so the police would know where not to go looking for drugs, but the state law on medical marijuana discourages developing such lists.
That's not to say home occupations shouldn't be otherwise regulated, Briere said. Permits should have to be pulled for any electrical or plumbing or other work done. They also have to adhere to the city's zoning ordinances and nuisance laws.
In another change to the ordinance, council members had second thoughts about limiting the number of dispensaries and cultivation facilities in the city to 15. After a lengthy debate, the council voted 8-2 in favor of setting what appears to be a higher limit.
Only Higgins and Rapundalo objected.
The council decided that, for the next year, licenses should be capped at a number that is 10 percent higher than the total number of dispensaries and cultivation facilities currently operating in the city. But that can't exceed 20 dispensaries and 10 cultivation facilities.
The city attorney's office believes there are about 18 dispensaries and cultivation facilities currently operating in the city — though officials say some of those may have opened after a temporary moratorium on dispensaries was put into place by the city last August.
"That strikes me as somewhat of a regulatory problem," Rapundalo said.
The council also voted unanimously to remove misdemeanor convictions for controlled substances as a reason for rejecting an application for a dispensary license.
Council members were unable to agree whether a buyer's name and the price of the marijuana should be labeled on the packaging. Briere called it "unusually intrusive," but Higgins argued there was a consumer protection element to it — buyers should know if they're getting the right order, and paying the right price, she said.
Another change made Monday night was inserting a new section in the ordinance that calls for establishing a three-member licensing board consisting of a council member, a physician and a caregiver. The members would serve by appointment of the mayor and would annually review the city's licensing criteria for medical marijuana businesses, establish license fees and recommend approval of license applications.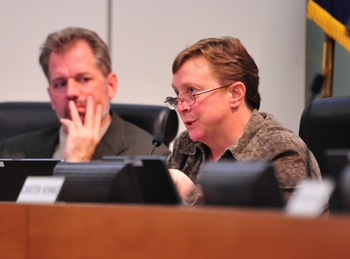 Ryan J. Stanton | AnnArbor.com
Ann Arbor resident Tony Keene, a consultant in the medical marijuana industry, requested at the start of Monday's meeting that the city establish an impartial commission to take a fresh look at the issue. He laid out what he acknowledged was probably an unpopular proposal.
Keene called for closing down all dispensaries in their current form and replacing them with "surplus management shops" that would purchase surplus pot from caregivers, co-ops and compassion clubs that have registered their facilities with the city.
The council did not discuss Keene's idea.
Monday's protest called for a boycott of the Michigan Municipal League for its perceived stance in favor of intrusive local regulations for medical marijuana home occupations. In response, the League put out a statement saying it is in no way trying to stop the state's medical marijuana law from being implemented. However, it believes the law is poorly written and doesn't take into account local planning, zoning and health and safety issues.

"The law is causing a lot of headaches for our members at a time when they have many, much larger issues to address," Dan Gilmartin, League CEO and executive director, said in a statement. "We take serious exception to the claim that the League is somehow trying to take over the Michigan Medical Marijuana Law, presumably to disrupt its implementation."
The League, along with the Michigan Townships Association, recently commissioned an independent white paper on the state's medical marijuana law. The paper, released in October, merely outlines the legal options communities have under the law, the League says.
Ream and his supporters say the report is "self-serving, anti-democratic and Orwellian screed," and its proposed model ordinance contradicts state law. The report was prepared by Gerald Fisher, a professor of law at the Thomas M. Cooley Law School.
Monday's meeting was held in the Washtenaw County administration building due to renovation work going on inside city hall. The city will hold its meetings there for the next two months.
Ryan J. Stanton covers government and politics for AnnArbor.com. Reach him at ryanstanton@annarbor.com or 734-623-2529.