Posted on
Tue, Nov 6, 2012 : 10:30 p.m.
Final verdict: Ann Arbor voters not in favor of public art millage
By Ryan J. Stanton
This story has been updated.
Only 44.1 percent of Ann Arbor voters were willing to tax themselves to pay for more public art. Voters rejected the city's public art millage on Tuesday by a final vote count of 28,166-22,254.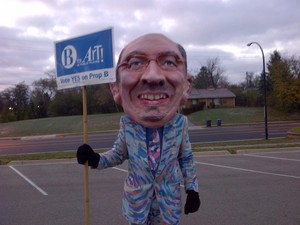 Photo by Trish Meyer
If approved, the 0.1-mill tax for art in public places would have lasted four years. The city estimates it would have cost the average property owner less than $1 per month and raised $459,273 in the first year.
That could have paid for new public murals, sculptures and temporary installations in public places, and possibly even events like FestiFools, the city's annual parade of foolish puppets on Main Street.
City Council Member Christopher Taylor, D-3rd Ward, sponsored putting the proposed tax before voters and had unanimous support from fellow council members on it.
Critics of the proposal argued it didn't give Ann Arbor voters a true choice on whether to fund public art. Rather, it was a choice between continuing to pay for public art through the current funding program or having a dedicated millage for art in public places.
The city's controversial Percent for Art Program, which has been the subject of intense debate over the last few years, remains in place now that the millage has failed.
One of the reasons the current program has been controversial is because it has diverted more than $2 million away from various city funds — including the water and sewer utilities and the streets and parks millages — to pay for art projects like the sculpture that now stands in front of city hall.
The program also has left the city's Public Art Commission with its hands tied — able to spend the revenues only on permanent art installations that somehow relate to the source of the funds.
Having a dedicated millage specifically for art — something critics of the city's public art program have been calling for — would have allowed more flexibility in what can be funded.
Mayor John Hieftje said Tuesday night he wants to reassess the city's efforts around public art after the defeat of the millage.
"The voters spoke on that one and I can understand why and what their feelings were," he said. "I think we'll need to take another look at art. There's going to have to be a conversation at City Council about how we can continue to be one of the leading cities in the state when it comes to art."
Ryan J. Stanton covers government and politics for AnnArbor.com. Reach him at ryanstanton@annarbor.com or 734-623-2529. You also can follow him on Twitter or subscribe to AnnArbor.com's email newsletters.