Posted on
Sat, Sep 4, 2010 : 6 a.m.
Washtenaw public health officials sound warning for whooping cough epidemic
By Juliana Keeping
Whooping cough has become a Washtenaw County epidemic.
And with the start of the school year, public health officials are sounding the warning that the highly contagious bacterial disease could gain even more momentum.
It's known as whooping cough for the "whoop" sound those with the infection make between coughing spasms as they try to breathe, and it can be fatal to infants.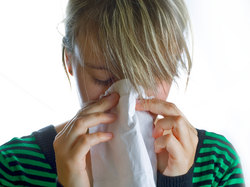 As of Friday, 94 cases have been reported in Washtenaw County in 2010. Comparatively, the total number of whooping cough cases stood at 81 in 2009; the last record year was 36 cases in 2003, according to the Washtenaw County Public Health Department.
Whooping cough - its scientific name is pertussis - is preventable.
"We're getting into the school season, and we want to make sure that people are appropriately vaccinated and know about the disease," said Diana Torres-Burgos, medical director for the county health department.
Torres-Burgos said the most current numbers around the county probably don't reflect the scale of the epidemic because the disease doesn't always present classic symptoms right away.
According to the public health department, initial symptoms appear seven to 10 days after exposure and usually include:

Low grade fever, runny nose, sneezing and occasional cough. The cough becomes more severe in one to two weeks.
During bouts of coughing, the nails and lips might turn blue from lack of air, and vomiting can occur with severe coughing episodes.
People may feel and appear fairly healthy much of the time in between coughing episodes.
In children under 1 year old, complications include pneumonia, convulsions and, rarely, brain damage. Pertussis deaths typically occur in infants younger than 2 months.
Many people cough for a month or longer.
Pertussis sounds like this.
An uptick in whooping cough cases has been alarming health officials around the state since 2008. It's a growing problem nationwide.
A 3-month-old baby from St. Clair, Mich. died in February after being misdiagnosed as having a cold. Pertussis starts with symptoms that resemble the common cold.
Infants need to be vaccinated as early as 2 months, with four additional doses given by age 6.
Torres-Burgos said the health department is strongly urging teens and adults - especially those who come in contact with infants - to ask medical providers for a vaccination.
Older children and adults should ask about Tdap, the vaccine combination for tetanus, diphtheria and pertussis, which is new since 2005, Torres-Burgos said. Immunity does wane over the years, so if it's been a while, a booster could be in order.
The uninsured and underinsured can call the health department for information on discounted or free vaccinations at (734) 544-6700.
Juliana Keeping is a health and environment reporter for AnnArbor.com. Reach her at julianakeeping@annarbor.com or 734-623-2528. Follow Juliana Keeping on Twitter