Posted on
Mon, May 20, 2013 : 5:59 a.m.
Public invited to discuss bike lanes, pedestrian crossings and transit improvements on Washtenaw Avenue
By Ryan J. Stanton
Plans for reconfiguring the Washtenaw Avenue corridor between Ann Arbor and Ypsilanti will be the topic of discussion at a series of public workshops later this month.
Officials from the city of Ann Arbor, Pittsfield Township, Ypsilanti Township and the city of Ypsilanti, working with urban design and transportation consultants, are hoping to get public feedback on future road configuration alternatives proposed as part of the ReImagine Washtenaw initiative.
That includes proposals for adding bike lanes, sidewalks, pedestrian crossings, streetscapes, buffers and transit stops, said Nathan Voght, the project manager for ReImagine Washtenaw. Voght said on Friday the plans aren't available for public release yet.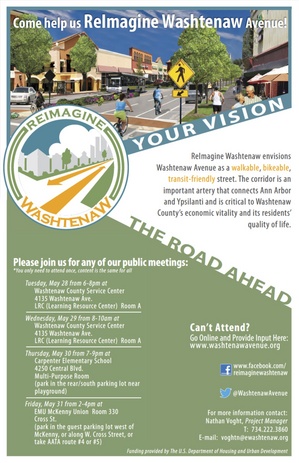 ReImagine Washtenaw is a multi-jurisdictional effort to look at land-use planning and public transit along the county's most congested and auto-centric road and transform it into a safe, multi-modal route with mixed-use development and enhanced transit services and amenities.
Professional staff planners and elected officials from the four municipalities have been leading the effort.
Additional partners include the Ann Arbor Transportation Authority, Michigan Department of Transportation, Washtenaw County, Ann Arbor/Ypsilanti Regional Chamber of Commerce and the Washtenaw Area Transportation Study.
AATA CEO Michael Ford provided an update on ReImagine Washtenaw in a recent report to AATA's governing board, noting the partners met recently to talk about road cross-section alternatives being considered.
Ford said a few different configurations are on the table at this point, including options for dedicated transit lanes, buffered bike lanes, continuous sidewalks and transit improvements that include a series of "super-stops" for AATA buses along Route 4.
"It is important to understand that the final plan will not be implemented quickly," Ford said. "Rather, it will establish development and zoning requirements to guide development and improvements."
ReImagine Washtenaw is involved in multiple projects to make the road more friendly to pedestrians and bicyclists and address traffic congestion and land-use issues along the corridor.
Master plans, zoning ordinances and design guidelines are being updated to ensure future developments consider walkability, transit needs and provide more "sense of place." Numerous projects have been completed or are wrapping up this year, including Arbor Hills, a new upscale retail development across from Whole Foods, and the MDOT non-motorized path at US-23.
"Through the ReImagine Washtenaw efforts, we are beginning to see visible results with recent improvements along the corridor," said Pittsfield Township Supervisor Mandy Grewal.
"We are now asking the public and all corridor stakeholders for specific input on the future alternatives currently being considered by our coalition," she said. "We need to find out what the community thinks the best approach is to making a safer and more inviting pedestrian environment, one that is more accommodating for bicyclists, and provides more sense of place."
The first workshop takes place from 6-8 p.m. May 28 at the Washtenaw County Service Center, 4135 Washtenaw Ave. The second takes place from 8-10 a.m. May 29 at the same location.
The third workshop takes place from 7-9 p.m. May 30 at Carpenter Elementary School, 4250 Central Boulevard. The fourth takes place from 2-4 p.m. May 31 at Eastern Michigan University inside Room 330 of the McKenny Union located where Washtenaw Avenue meets Cross Street.
Kari Martin, MDOT's University Region planner, said MDOT is looking forward to continuing its collaboration with the ReImagine Washtenaw initiative to ensure future improvements address both MDOT's needs and also the community's vision for the corridor.
Ryan J. Stanton covers government and politics for AnnArbor.com. Reach him at ryanstanton@annarbor.com or 734-623-2529. You also can follow him on Twitter or subscribe to AnnArbor.com's email newsletters.