Posted on
Wed, Oct 19, 2011 : 12:50 p.m.
Publishing the Old News: Library launches online archive of Ann Arbor News material
By Cindy Heflin
The public will get access Friday to a small portion of articles and photographs published during the 174-year history of The Ann Arbor News, the Ann Arbor Chronicle reports.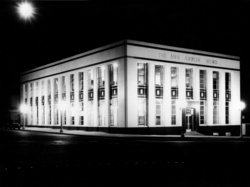 The Ann Arbor District Library will launch an online archive, called Old News, of some of the material The News gave to the library after Advance Publications, which also owns AnnArbor.com, shut down the newspaper in 2009.
The 18,000 articles, 3,000 photos, and index with more than 160,000 names which will be available initially is less than 1 percent of the material provided to the library after the newspaper closed, the Chronicle reported. The library plans to add to the online archive over time, guided largely by requests from the public.