Posted on
Wed, Nov 2, 2011 : 6:04 p.m.
Steve Puuri announces retirement from the Washtenaw County Road Commission
By Lisa Allmendinger
This story has been updated to correct the number of years that Puuri served as managing director.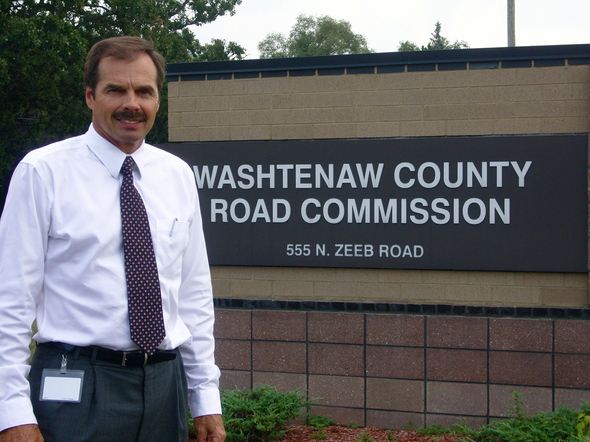 AnnArbor.com file photo
After 25 years with the
Washtenaw County Road Commission
,
Steve Puuri
announced his retirement Tuesday afternoon.
In a letter to the Road Commission Board, Puuri said he planned to retire on Dec. 23.
Commissioner Ken Schwartz said although he'd only been working with Puuri for a year, "It's been a pleasure to work with Steve. I've found him to be extremely efficient and responsive."
"With your absence, a lot of responsibility will be placed on the chairman," he said, adding that he was glad that current Chairman Doug Fuller had previous road experience to assist a new hire.
After the meeting, Puuri said, "The time is right. The organization is in a good place considering the funding situation with good people."
Puuri, 56, said he planned to take some time off and had nothing immediate planned other than spending time with his family.
He said he'd spent 34 years in public service, nine years as an engineer with the Federal Soil Conservation Service. He was the county highway engineer with the Road Commission before becoming managing director, replacing Robert Polens, who retired in 2003.
"I feel like I've accomplished a lot in my career so far," he said, adding that he still planned to accomplish more in the future, but didn't believe in having something else lined up while still employed by the Road Commission.
"Clearly, Mr. Puuri has been imaginative, creative and extremely able," Fuller said. "He will be missed."
The announcement prompted a lengthy discussion about how the Road Commission would fill his position. Currently, the managing director makes $115,000, but an announcement of the opening won't include a salary range.
Commissioner Fred Veigel said it will be up to the board what the new director is paid and that will be commensurate with a candidate's experience.
"We'll decide the salary, the three of us. This isn't Wayne County. We don't even know who internally will apply," Veigel said in pushing for expanding the search to include external candidates.
Schwartz said that the new director will face "unique times," including finances for the organization, a possible reorganization of the personnel and interlocal relationships with the elected county officials.
"I'd like to focus on internal candidates first, then go externally. My bias is clearly for someone within the organization first," he said.
The board agreed to post the opening internally as well as in the County Road Commission Association newsletter and on the Washtenaw Road Commission website.
Officials set a Nov. 23 deadline for letters of interest and resumes and plans to conduct interviews the first week of December. They hope to choose a new managing director at the Dec. 8 regular board meeting.
Lisa Allmendinger is a regional reporter for AnnArbor.com. She can be reached at lisaallmendinger@annarbor.com.