Posted on
Thu, Jun 23, 2011 : 4:25 p.m.
Raw milk sickens two Washtenaw County women with Q fever
By Juliana Keeping
Raw milk sickened two Washtenaw County women with the first locally reported cases of Q fever in at least 20 years, according to the Washtenaw County Public Health Department.
The women, as well as a female Monroe County resident, became ill with the bacterial infection after consuming milk from a Livingston County farm, a Michigan Department of Community Health release states. All three were in their 30s or 40s. The women participate in a dairy herd share program, in which members receive raw dairy products in return for owning a share of a cow, the MDCH says.
Michigan's dairy laws do not regulate these programs.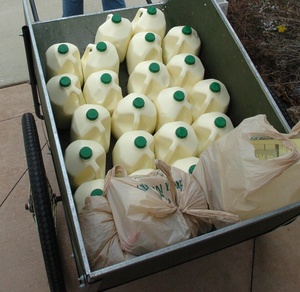 Q fever is a bacterial infection caused by an organism common in farm animals, especially goats, cattle and sheep. It's characterized by high fever, severe headache, body aches, fatigue, nausea, vomiting and chest pain. While most people recover, some can develop life-threatening pneumonia and inflammation of other organs like the liver, heart and central nervous system, according to the MDCH.
Raw milk has not been treated to kill bacteria, while pasteurized milk is heated briefly to kill disease-causing germs. The milk consumed by the women sickened is not available at retail outlets.
Q fever is a reportable communicable disease in Michigan, but local cases are rare, said Laura Bauman, an epidemiologist for Washtenaw County. Reports of two cases over the last three weeks caught her eye, she said.
Public Health nurses interviewed those sickened and found they'd each consumed milk from the same farm, Bauman said. The Livingston County Health Department is handling follow-up with the farm.
Juliana Keeping covers general assignment and health and the environment for AnnArbor.com. Reach her at julianakeeping@annarbor.com or 734-623-2528. Follow Juliana Keeping on Twitter