Posted on
Sun, Nov 11, 2012 : 11:02 a.m.
Q&A with Ann Arbor's Bridget McCormack on being elected to the Michigan Supreme Court
By Ryan J. Stanton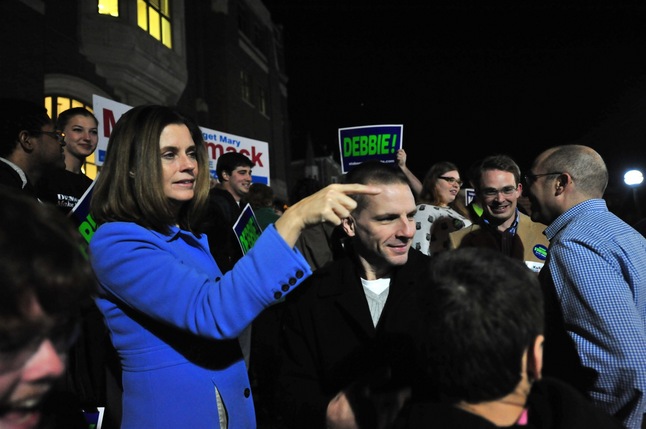 Ryan J. Stanton | AnnArbor.com
Ann Arbor's
Bridget McCormack
garnered national attention in September when the
cast of the West Wing reunited
to make a video supporting her campaign for Michigan Supreme Court.
The video clocked more than 1 million views on YouTube, and so maybe it's no surprise that Michigan voters remembered McCormack's name on Tuesday when they went to the polls.
In the seven-way race for two full-term seats, McCormack, a Democrat, and Republican incumbent Stephen Markman came out on top.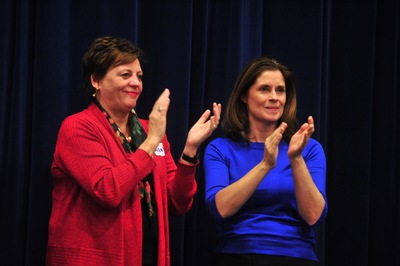 Ryan J. Stanton | AnnArbor.com
In a separate race for a partial term, Republican Justice
Brian Zahra
retained his seat, keeping a 4-3 majority for the GOP.
McCormick, who's now making the transition from University of Michigan law professor to Supreme Court justice, spoke with AnnArbor.com by phone Wednesday night about the election.
She'll begin serving an eight-year term in January.
AnnArbor.com: Congrats on winning your race. You must be relieved after a long and busy campaign season. What are you doing to unwind?
McCormack: It's not so much unwinding for me. I have four kids. They had to get to school today and I got them there, I went to work, I taught a class, I had a bunch of meetings … so business as usual. I mean, all other jobs — mom, law professor — they're still on.
AnnArbor.com: Explain for the benefit of my readers what is the role of the Michigan Supreme Court, and how do you plan to apply the law as a justice?
McCormack: The Michigan Supreme Court is the court of last resort in this state. It's not an error-correcting court. It decides very few cases, but cases that are very important to all of Michigan's businesses, families and communities. It's my strong view that the court has to apply the rule of law and not politics, and that's actually the best way our public is protected by the court and that's what I intend to do when I'm there.
AnnArbor.com: You're joining a court with a 4-3 Republican majority, which is unchanged after this election. How do you feel about that? Does it matter that you'll be in the minority?
McCormack: I don't think it should at all. I actually think one of the problems with at least our public confidence in our court is too much focus on partisanship. And this is a critique really of the way we select our Supreme Court justices, not of any of the justices themselves. The partisanship in our process makes it difficult for the public to have confidence that decisions are made based on the rule of law instead of based on politics. And I think that kind of partisanship, as well as the unbelievable spending in the race by funders who don't always have to be identified, complicates that.
And so I don't actually think it should matter. The court is not a political branch of government. It's supposed to play a different kind of role and an independent role.
AnnArbor.com: Many expected the two incumbent Republican justices would keep their seats in Tuesday's election, but that still left one seat up for grabs. Are you surprised you got it?
McCormack: I thought everybody ran a great race, so I guess I wouldn't have been surprised if someone else beat me. It was a very close race in the end. I was proud of the race I ran and thought I did a decent job teaching the voters a little bit about me. I got 10 out of 10 newspaper endorsements and no other candidate did that, and so I was proud of the race I ran and not shocked that I won.
AnnArbor.com: I know there was some polling that showed you had high name recognition among voters. How much do you think the West Wing ad helped you?
McCormack: I wish we had really great polling so I could tell what made a difference. We did so many different things. But I do think that was helpful. An awful lot of people saw the West Wing ad and it did get a lot of people talking about the race. I certainly don't think it hurt.
AnnArbor.com: Are you at all nervous about making the leap from law professor to Supreme Court justice without ever having been a judge?
McCormack: I'm not. Historically, the law schools were a traditional feeder to the state supreme courts and still to the U.S. Supreme Court — the most recent justice, Elena Kagan, came from the Harvard Law School faculty. And I think the reason for that is a lot of what we do on a law school faculty is pretty similar to what the Supreme Court does. In our teaching and our scholarship, we are picking apart appellate decision-making, not just from our own state Supreme Court, but from state supreme courts around the country and the U.S. Supreme Court.
In some ways, that is the tool of our trade. We're putting it in historical context. We're synthesizing it. We're arguing about what 'footnote seven' means. And so I think, in many ways, the work that I've done as a member of a law school faculty now for 16 and a half years is a nice background.
AnnArbor.com: What do you feel you bring to the Michigan Supreme Court that isn't already there? Or what ways do you see yourself making a difference?
McCormack: I think a court that has some diversity among the justices, of the experiences they bring with them to the court, is a big benefit. I think my background on a law faculty, in addition to running the clinical programs that I have now run for 14 and a half years at Michigan, representing people who wouldn't otherwise have access to courts, and trying to figure out creative ways to improve access to justice, makes me a unique addition to the court.
AnnArbor.com: Will you stay living in the Ann Arbor area and can you continue working for the University of Michigan or will you be a full-time justice of the Supreme Court now?
McCormack: I will not continue to work at the university. The university occasionally has cases before the court, and so I don't believe I can have any official ties with the university like that, like being a full-time faculty member, so I will have to resign from the university and begin the next chapter.
And I'll stay in Ann Arbor. We have two kids in Pioneer and two kids in Slauson and they might kill me if I moved them somewhere. I can drive to Lansing and drive to Detroit no problem.
AnnArbor.com: Does it at all strike you as odd that Michigan's Supreme Court races are nonpartisan but the candidates are nominated by political parties to run? Given that it's become so partisan, would it be more helpful to voters to just identify justice candidates by their party label on the ballot?
McCormack: I don't think it's odd that it's nonpartisan on the ballot. I mean, the court really is supposed to be the branch of government where partisanship is not playing an important role, so I don't think that is a problem. The problem is when you have party nominations to the race and then it's nonpartisan on the ballot. I think that actually increases the partisanship in the election process, because the nomination process kind of starts it off and then plays a role throughout the election.
In the circuit court races, there are no party nominations. Anybody who wants to run for an open seat on the circuit court or run against an incumbent on the circuit court can just go out and get the signatures and get themselves into a primary. And two people make it out of the primary, and they might both be Democrats or both be Republicans. We don't have to know what their party affiliation is and it's probably a better way of doing it. I'm really interested in this topic and how we can fix it.
AnnArbor.com: I know a lot of money was dumped into your race by outside special interests. What effect do you think that had?
McCormack: There was an awful lot of money spent in the race and I think unfortunately much of it is spent for negative ads. I don't think that helps our court be the best court it can be. In my particular race, there was $1 million from a D.C. Super PAC spent against me just in the last week. I think that's not the best use of our time and our money and not the best way to pick a court. Nobody knows who funds that Super PAC and what they think they're buying, right?
AnnArbor.com: Some people argue the court is plagued by partisanship with too many 4-3 decisions made along party lines. Will your Democratic values factor into your decision-making?
McCormack: The way courts are supposed to make decisions is following the law that the political branches of governments make, and sometimes that means you're making a decision that doesn't line up exactly with your political views. But the court really is supposed to play this different role in our system of government, and when it plays that role, that independent role, our government works best. That isn't to say you leave your values or your history or who you are at home when you go to work every day, but it is a different kind of job than a job in the other branches of government.
Ryan J. Stanton covers government and politics for AnnArbor.com. Reach him at ryanstanton@annarbor.com or 734-623-2529. You also can follow him on Twitter or subscribe to AnnArbor.com's email newsletters.