Posted on
Mon, Jul 16, 2012 : 5:56 a.m.
Q&A with Carl Luckenbach on opening of new underground parking garage: 'I feel good about it'
By Ryan J. Stanton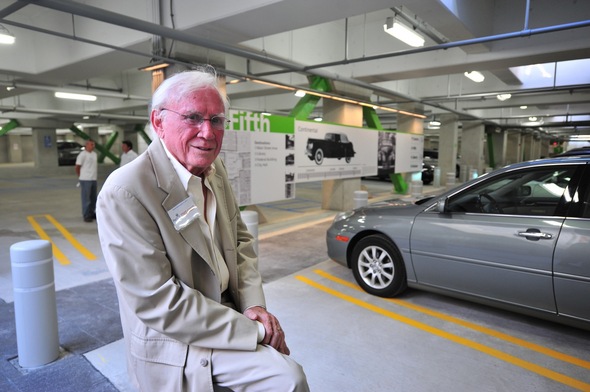 Ryan J. Stanton | AnnArbor.com
As Ann Arbor officials celebrated the grand opening of
the new Library Lane parking garage
last Thursday, Mayor
John Hieftje
gave credit where it's due.
"I'm putting myself out there right now — Carl Luckenbach should win an award for the design of this structure," Hieftje told a crowd of cheering supporters.
Luckenbach, an Ann Arbor architect whose firm helped design the new underground structure, spoke with AnnArbor.com about the project, which he traced back more than two decades.
Despite being open for a few hours for Thursday's celebration, barricades remain up to stop cars from coming or going from the structure. Officials say some last-minute details are being finished inside and inspections still need to be done before it can officially open.
AnnArbor.com: I know you played a big role in this project coming to fruition. Tell me, what does this day mean to you and what did it take to get here?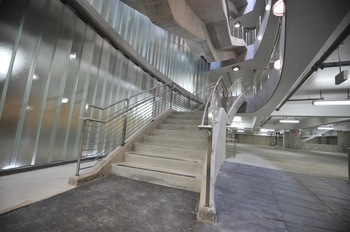 Ryan J. Stanton | AnnArbor.com
Luckenbach
: We did a study for the city of Ann Arbor back about 1990-1991 and the product of that study included an underground parking garage, so it's been that long in its gestation period. We got to today because there were some pretty forward-looking people on the DDA who quite accurately predicted that you had to have parking available to attract the tenants to make downtown successful.
AnnArbor.com: Clarify for me your exact role in this project.
Luckenbach: We were consultants to Carl Walker Inc., the parking specialists.
AnnArbor.com: And you helped envision this, correct?
Luckenbach: Yeah, we did. And we helped bring a strong emphasis on people's comfort, not that Carl Walker is oblivious to that — they're certainly not. But I don't think we'd have staircases like this with the daylight coming down.
AnnArbor.com: So that's your touch?
Luckenbach: I think so. I think we had a lot to do with that. And I think what we tried to bring to this was a sense of comfort for people who were using it, and a certain sense of pride that they've got this civic asset here and it's not just some giant basement.
AnnArbor.com: How do you think the project turned out? Is it everything you thought it would be? Does it match your vision?
Luckenbach: Pretty much, yeah. I'm very pleased with the level of light, the ceiling heights, the colorful graphics and identifying symbols and wayfinding. I feel good about it.
AnnArbor.com: What do you think this parking structure is going to mean for Ann Arbor?
Luckenbach: I think it's already meaning good things. I don't think Barracuda Networks would be moving into the downtown area if it wasn't for the additional parking available here. And I think it will be attracting other major companies, probably technology companies, to downtown.
AnnArbor.com: There's been a lot of talk about what goes on top the parking structure now. At one point, you were involved with a team that was talking about a hotel and conference center. Where is that idea at? Is that completely dead now?
Luckenbach: That was totally shot down by the City Council and I don't think anybody's got the stomach to come up with a proposal right now, except the folks who are pushing a park.
AnnArbor.com: What are your thoughts on a park?
Luckenbach: I don't think it's a good idea and I don't think it's a feasible idea. It's hard to grow a whole lot on top of this parking structure. The trees that are up there now are growing out of specially constructed pits. So I don't think we need a park. We've got green space flanking the downtown. West Park. We've got the U of M Diag. I don't think we can afford a park. We can't afford to take care of what we have now.
AnnArbor.com: So what would you like to see on top of this parking structure?
Luckenbach: I'd like to see a development that generates a lot of pedestrian traffic. And I'd like a civic plaza, a gathering place. Not necessarily a park. A place to hang out, to gather, to have civic ceremonies … a downtown focus for public activities.
RELATED STORY: Ann Arbor's newest parking garage gets mostly rave reviews at grand opening
PHOTO GALLERY: Library Lane underground parking garage opens to public in downtown Ann Arbor
Ryan J. Stanton covers government and politics for AnnArbor.com. Reach him at ryanstanton@annarbor.com or 734-623-2529. You also can follow him on Twitter or subscribe to AnnArbor.com's email newsletters.