Posted on
Mon, Jul 9, 2012 : 5:57 a.m.
Leah Gunn on the role of the Ann Arbor DDA: 'We've made it attractive to businesses to be downtown'
By Ryan J. Stanton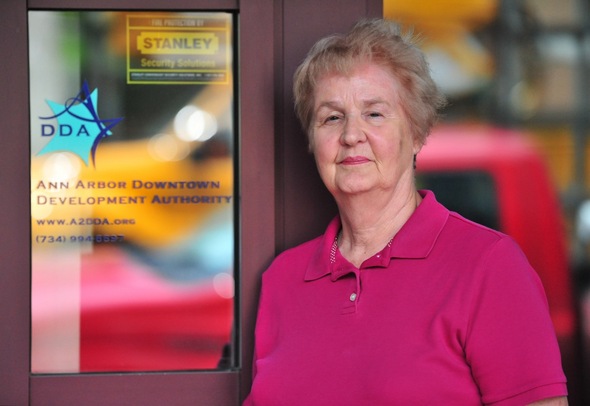 Ryan J. Stanton | AnnArbor.com
Leah Gunn
assumed the role of chair of the
Ann Arbor Downtown Development Authority
this past week, unanimously chosen by her peers on the DDA board for the job.
Gunn, who also is serving out her last term on the Washtenaw County Board of Commissioners, caught up with AnnArbor.com on Thursday to chat about her new role, the health of the downtown, the ongoing construction boom, and what she sees on the horizon.
AnnArbor.com: Many people still don't quite fully understand the DDA and what it does. How would you describe the role of the DDA in the downtown?
Gunn: The DDA's mission is to encourage private investment in the downtown and one of the ways we do that is to provide a good public parking experience for people. And also all of the other amenities that we have done over the years, which include all the streetscapes and the LED lighting and the go!pass and helping with city hall. The list goes on.
AnnArbor.com: What's your assessment of the current health of the downtown? I know we're seeing lots of development activity, but we've also seen some retail vacancies.
Gunn: Retail comes and goes. It's very tough to have retail downtown, but those who stay can flourish. And the health of downtown, I think in the past 20 years, has just been tremendous. It's grown a lot and the residential development downtown has helped that, but also the business development, because the people who work downtown are the customers of the retail.
AnnArbor.com: What's your take on all the high-rises we're seeing go up with the student housing boom? Is this a good thing or are we over-saturating the market?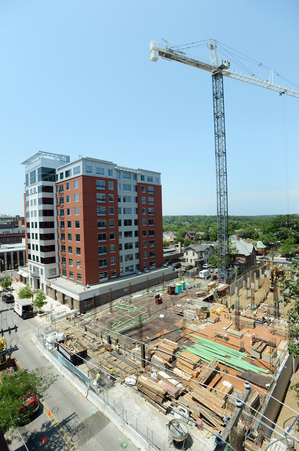 Melanie Maxwell I AnnArbor.com
Gunn:
Actually, the over-saturation is up to the people who are renting those out. So far we have not had any indication that they're over-saturated. If that happens, it happens, but they're taking the risk. They're making the buildings, and just because it's a high-rise targeted at students doesn't mean that students have to live there. You don't have to be a student to live there.
AnnArbor.com: I know there are people who want to see new housing downtown that's not just geared toward students. Ann Arbor City Apartments and 618 South Main might be the first two projects that could deliver in that regard. Is there room for more projects like those?
Gunn: Absolutely. And we have Connecting William Street, which is our economic developmental group that is looking at all those surface parking lots for development and I think they could be office, they could be residential, whatever the market will bear.
AnnArbor.com: What's the timeline for that initiative?
Gunn: It goes through until January and they're looking very carefully, and they're consulting a whole bunch of experts. They're having a tremendous number of public meetings to see what they think the community wants and also what is possible in the marketplace.
AnnArbor.com: The DDA is about to celebrate the opening of the new Library Lane parking structure. What do those 711 underground spaces mean for downtown?
Gunn: It means that businesses can move downtown knowing that there is parking available, and I think you've probably read our marketing plan for that particular structure where we are trying to persuade monthly permit parkers to leave the Maynard and Liberty Square structures and park there. We know, for instance, that Barracuda Networks is interested. They'll be parking there. So we've made it attractive to businesses to be downtown.
AnnArbor.com: What is the DDA up to right now? What are the major projects on its plate and what are your priorities as chair?
Gunn: First we're going to catch our breath, because we have spent a great deal of time and effort and money. We didn't just build a new parking structure. We also did the Fifth and Division streetscape improvements. We are working specifically in two areas now. One is Connecting William Street, which we've already talked about, and the other is our transit demand management program where we're going to try and attract people to be able to drive when they need to and to use alternative transportation if they can. You've noticed all the new bicycle racks in the streets. We are encouraging all kinds of alternative transportation to bring people downtown to shop, to eat in restaurants, to have a good time.
AnnArbor.com: Is there another defining project on the horizon for the DDA? Any talks of another parking structure? Anything like that?
Gunn: Not at this time. We have not made that decision. We'll be having a retreat in October where we'll look at our whole strategic plan and see what we can come up with.
AnnArbor.com: What else do you see on the horizon for downtown, whether it's the DDA doing it or just the natural course of events?
Gunn: I think one of the things that has happened recently is the formation of the Main Street BIZ, which is a property owners' contribution. And they are keeping up snow shoveling and flower planting and all that sort of stuff. The've been very successful. I think that's going to happen also in Kerrytown. I know Keith Orr is looking at that. And State Street, they pretty well do it already, but these Business Improvement Zones — which are separate from the DDA, because we can't do everything — I think that's a thing I'd like to see continue.
AnnArbor.com: So we already have a BIZ for Main Street and we're talking about doing one for Kerrytown and one for State Street now?
Gunn: And possibly South U, but these are all dependent on property owners being willing to pay an extra tax.
AnnArbor.com: One of the most recent developments downtown is the news that Barracuda Networks is expanding into the former Borders location. How significant is this?
Gunn: The most significant thing about Barracuda is they are hiring. They're basically hanging from the ceiling right now. They need space. And if you know Rich Sheridan and Menlo Innovations, they have moved into the old Tally Hall. They needed space. This is what is encouraging. These businesses need to hire more people and the people who work for them want to be downtown, and this to me is because we have made downtown attractive. We've worked very hard over the past 20 years to make downtown attractive to business people. And in my mind, particularly to young people.
AnnArbor.com: The DDA has steadily increased the rates to park downtown. Part of that has been to pay for some of these projects like the new parking structure. Will we see continued rate increases?
Gunn: With the increases, we have to look at our bottom line. We have to see how the new parking structure is used, what the debt service is on that, how it's going to work out. We have been able to maintain a healthy fund balance, which we didn't think we'd be able to do, but our fund balance is about $4 million, which keeps our auditors happy.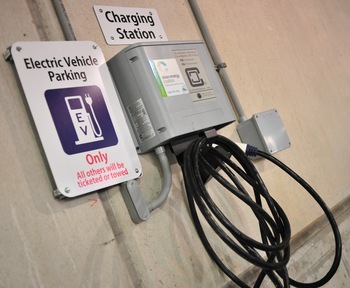 Ryan J. Stanton | AnnArbor.com
But in the future, we have to balance demand. If suddenly we find nobody wants to come downtown, we'll have to do something about it, but it's never been about rates. It's always been about 'I can't find a parking place,' and I think we've helped with that.
AnnArbor.com: And what's the latest on the expansion of meter enforcement hours into the evening? Right now enforcement ends at 6 o'clock.
Gunn: There hasn't been any further discussion lately. I suspect that the issue will be discussed at our October retreat.
AnnArbor.com: The DDA has become somewhat of a political football, especially during election season with City Council races. Somebody called the DDA a 'political punching bag' for a certain council member this past year. Why does controversy seem to surround the DDA?
Gunn: I think because people really don't understand what we do and where we get our revenue. Now we do get some revenue from tax-increment financing, and in 1982 the other jurisdictions — which included the Ann Arbor Public Schools, the community college, the library, the board of commissioners — all voted to create the DDA.
Since Proposition A, the DDA no longer receives any school property taxes, but the other governments have also benefited from us. Because unlike other DDAs, we only take the first amount of value. And over the years, the value of the DDA district has gone way up.
And actually those governments — which include the county, the city and the library — get about 65 percent of that increased value, and the rest comes to us. So we're not bleeding the city dry the way some other jurisdictions do because of that agreement. We've added value to the downtown and we've also rebated these taxes back.
AnnArbor.com: Where do you think downtown Ann Arbor would be right now if the DDA never existed?
Gunn: If the DDA never existed, you would have parking structures that probably have crumbled to dust already. And it could be that you could shoot a cannon down Main Street at 6 o'clock, and businesses would have moved out because it would have been an unattractive situation for people. You don't want to hire a software engineer and have them walk down crumbling streets or park in a structure where rocks will fall on the top of their car.
That's what we changed. When we originated, we built two parking structures: Liberty Square and Ann and Ashley. Then when we took over the parking management in 1992, that's when we started repairing and replacing the parking structures using parking revenue to do it. And then this has now culminated in the new underground parking structure.
AnnArbor.com: How do you view the relationship between the DDA and the city? There have been some tensions over the parking agreement and just how much the DDA transfers in parking revenue to augment the city's general fund.
Gunn: I think it's been settled. We have agreed to transfer a certain percentage of our parking revenue and that's in exchange for us having the meters. It took us a long time to get the meters, and it actually came when John Hieftje was elected. He said, 'Take the damn meters.' So we did. And I think we have progressed to a place where we are showing people it's expensive to park at a meter because it's the most convenient. The next most convenient is a surface lot, but that's not good use of downtown property. Come into a structure, you will pay less, and so that is what we call the transit demand management in terms of parking.
AnnArbor.com: We've seen significant investment downtown along Fifth Avenue in particular in the last few years, starting with the new city hall addition. We've repaved Fifth Avenue the full length from Huron to William and soon south. We've built a new parking structure. We're talking about development on top of that lot and across the street. Blake Transit Center is going to be demolished and reconstructed. There's talk of a new library. That's a lot.
Gunn: The DDA sees Fifth Avenue as what we call the 'civic corridor,' because the city hall is there and the other public buildings and infrastructure that you've talked about. But it wasn't just repaving Fifth Avenue, it was adding larger water mains. And underneath that parking structure are huge storm detention tanks. There are rules about stormwater detention. You have to have a place for water to go. That will support all this other development. So this is something the DDA has invested in, in order to encourage private development.
AnnArbor.com: I know you're involved with the library millage campaign. What's happening there and what can you say about the need for a new downtown library?
Gunn: This is very personal to me because I started out my career as a librarian and I love the public library and my husband and I were co-chairs of the last millage campaign. That building is a disgrace and people say, 'Oh, it's fine. We love it. We use it.' Well, it was poorly designed to start with, it just doesn't work anymore. And a library is more than a place to store books. It's programs. It's computers. It needs electrical upgrades. It needs everything.
And they've done a thorough analysis and they came to the conclusion that it was not worth it to try and renovate it. It would just be too messy. Too expensive. It's cheaper and much better to build a new modern library, so that's why I'm active on that campaign committee.
Ryan J. Stanton covers government and politics for AnnArbor.com. Reach him at ryanstanton@annarbor.com or 734-623-2529. You also can follow him on Twitter or subscribe to AnnArbor.com's email newsletters.