Posted on
Mon, Nov 12, 2012 : 5:57 a.m.
Race for the state House: How Gretchen Driskell won the 52nd District seat over Mark Ouimet
By Amy Biolchini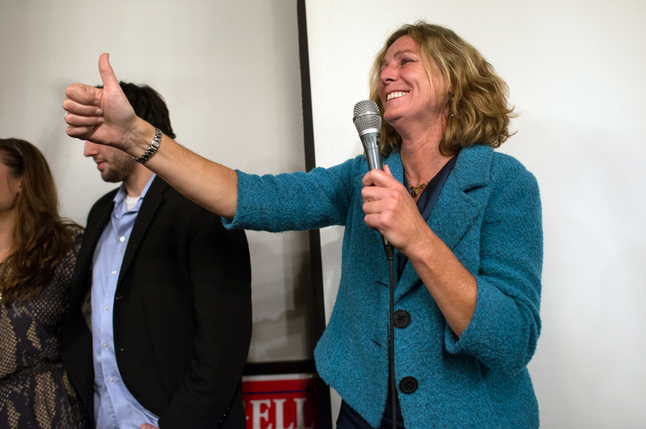 Courtney Sacco | AnnArbor.com
On paper, the odds were seemingly stacked against
Gretchen Driskell
, Saline mayor for over a decade.
Running against an incumbent Republican who had deep pockets and the ear of Michigan Governor Rick Snyder in the conservative 52nd House District, Driskell said she felt like every day she faced a new hurdle in the campaign.
But Tuesday night, Driskell was able to pull 52.9 percent of the vote and the 52nd District seat out from the one-term Rep. Mark Ouimet, R-Scio Township.
"We're running on change and improving the state, and I think that resonated with people," Driskell said during a phone call with AnnArbor.com Thursday from Lansing, where she had just completed her orientation.
It was a hard-fought battle for Driskell, who said she had to put some of her duties as a commercial Realtor and on some appointmented boards aside to dedicate her time to the campaign.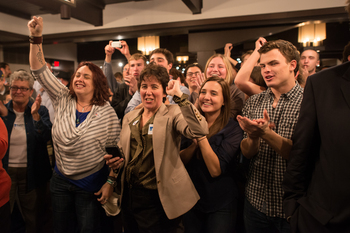 Courtney Sacco | AnnArbor.com
"I was surprised at the initial result," said
Keenan Pontoni
, Driskell's campaign manager. "I always had confidence that we could win, but I never thought we had more than a 50 percent chance of winning. It's still a pretty conservative district and she was competing against an incumbent with a lot of money."
Though Pontoni said the campaign staff had concerns about the parts of the 52nd District that were more heavily Republican, Pontoni said he believes some of his worries were eliminated by Driskell's reputation as a bipartisan mayor.
"We worked hard to develop a positive message that ultimately resonated really well with the voters," Pontoni said. "Our strategy was largely orientated around tapping the voters with Gretchen's amazing character and personality."
The voters likely swayed to Driskell's favor because of her strong stance of restoring funding to public education institutions and her position on women's rights issues, she said.
Driskell was able to close the margin in some of the precincts that were more heavily Republican, and won all of the precincts in Saline.
"The reason I won in Saline is because people know me and know I'm a hard worker," Driskell said. "I think (Ouimet) had to win Saline in order to win - and he won Saline last time in 2010."
Driskell had hired finance director Kristy Pagan early on in her run for the state House, and brought on a full staff, including campaign director Pontoni, after the August primary.
"That's something I've always done is the door-to-door part," Driskell said, explaining she's weaker when it comes to organizing fundraising efforts and brought in an experienced staffer to run the show.
With Pagan's guidance, Driskell raised $180,104 in direct donations and in-kind contributions to her campaign to Ouimet's $382,082. During the period between the August primary and the November election, Driskell was able to raise more funds than Ouimet and racked up less debt.
What made the difference for Driskell was her outstanding record in Saline and her energy and confidence during the campaign, Pontoni said.
"Gretchen is a true public servant. She's not a candidate you see every day … A lot of this was largely possible due to a lot of volunteer support and confidence from the Democratic party in the community and in Ann Arbor," Pontoni said. "The Republican strategy tended to be the strategy that attacked personal records - and it wasn't effective because her record was so strong."
In the latter part of her campaign and throughout election week, Driskell said she's barely had time to breathe.
She was able to have dinner with her father the Monday before Election Day, and realized it was the first time she'd sat down for more than 10 minutes in months.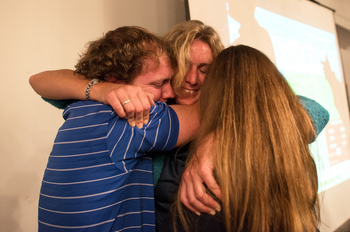 Courtney Sacco | AnnArbor.com
Driskell said her family is beyond supportive of her running for the state House, even in the face of the negative advertising that cropped up along the campaign trail after the primary election.
"I told them there was the potential for a lot of negativity," Driskell said. "Both my kids learned a lot; they're really excited about what we're doing."
After 12 years as mayor, Driskell will be leaving Saline in the hands of Mayor-elect Brian Marl, a sitting Saline City Council member who won the position with 60 percent of the vote Tuesday against former Council Member Glenn Law.
"We have a really strong staff and Brian will do a really great job," Driskell said.
Driskell said she'll stay true to her campaign promises of funding schools and working with the interests of small communities at heart.
"I just want to educate people," Driskell said. "Working with elected officials across the state … we can talk until we're blue in the face but people need to know what's going on."
Pontoni grew up in Dexter and attended school in Ann Arbor. Before joining the Driskell campaign, Pontoni managed Ann Arbor Democrat Andy LaBarre's successful primary election race for a seat on the Washtenaw County Board of Commissioners
Driskell's team additionally consisted of chief strategist Stephen Pontoni, field organizer Katy Kelly, communications manager Alex Yerkey and events coordinator Anna Zinkel.
"My philosophy is you work hard and do your best, and the cards fall where they fall," Driskell said. "We had a great team and a really strong campaign; that's what you do."
Amy Biolchini covers Washtenaw County, health and environmental issues for AnnArbor.com. Reach her at (734) 623-2552, amybiolchini@annarbor.com or on Twitter.