Racial profiling builds 'false sense of security,' Washtenaw County Sheriff Jerry Clayton tells law students
Posted on Mon, Jan 18, 2010 : 6:15 p.m.
Racial profiling "builds a false sense of security," doesn't effectively fight crime and threatens fragile relationships between police officers and community members, Washtenaw County Sheriff Jerry Clayton said today.
Officers should respond to suspicious behavior, but not race, ethnicity or nationality, Clayton said.
"We can focus on what we think are the terrorists, but I guarantee you the people trying to do us harm will vary their strategy," Clayton said.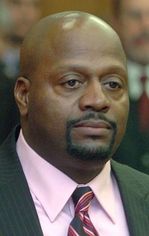 Clayton, who has worked as a consultant to police on racial profiling issues, was the featured speaker at the Martin Luther King Day celebration at Thomas M. Cooley Law School's Ann Arbor campus.
The Black Law Students Association and Student Bar Association sponsored the event, which was attended by more than 100 people.
After his talk, Clayton continued the discussion on a panel that included 14A District Judge J. Cedric Simpson, Assistant Dean Daniel Ray and Washtenaw County Senior Assistant Public Defender Sheila Blakney.
Carolyn Muhammad, 29, of Chicago, a student at the school, told the panel her four brothers have been victims of racial profiling.
"It erodes the fabric of the faith we have in the criminal justice system," she said.
Judge Simpson said people shouldn't let racial profiling get to them. Simpson, who is black, told a story about how a police officer stopped him years ago because of the color of his skin.
Simpson, who was a young attorney at the time, said he was subjected to needless questioning and was kept much longer than necessary. While he was angry at what occurred, Simpson didn't let it "define" him, he said.
"You respond appropriately and you don't let it worry you too much," he said.
Attorney Blakney suggested filing a complaint with police when racial profiling occurs. If people don't file formal complaints, police departments can claim racial profiling isn't a problem, she said.
Muhammad, the student whose brothers were profiled, said after the meeting she agreed with Simpson and Blakney.
"It does come down to how you respond," she said. "Being racially profiled, it hurts the psyche…You begin to act as people perceive you."
When you don't file a complaint, Muhammad said, "You become a part of the problem."
Assistant Dean Ray, who also is a constitutional law professor, said "we all know on a fundamental level" racial profiling is wrong. If the government decides to profile one race today, it could decide to profile another tomorrow, he said.
"No one is safe from profiling," he said.
Beauty Ikeri, 26, of Detroit, who is the president of the Black Law Students Association, said it was a much-needed discussion.
"It shows we've come a long way, but we've still got a long way to go."