Posted on
Thu, Oct 20, 2011 : 6:54 p.m.
Rain causes localized flooding in Ann Arbor area, but sunny weekend in store
By Cindy Heflin
Jeff Sainlar | AnnArbor.com
Soggy weather plaguing the
Ann Arbor
area for the past couple of days will give way to clearer skies for the weekend.
The bad news? Temperatures will remain cool, and, frost could develop overnight Friday in some areas, the National Weather Service said.
Some localized flooding was reported Thursday in the Ann Arbor area. The Washtenaw County Road Commission Thursday afternoon closed Liberty Road between Honey Run Drive and Stags Leap Lane in Scio Township, which floods frequently. The Ann Arbor school district moved soccer games from Forsythe Middle School to another school because of flooding on the grounds there.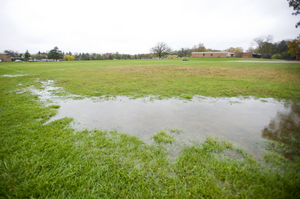 Joseph Tobianski | AnnArbor.com
The Ann Arbor area has received between one half and three fourths inch of rain since it began raining Tuesday evening, said National Weather Service meteorologist
Rachel Kulik
. Up to another quarter inch could fall before the rain stops this evening, she said.
The forecast calls for showers tonight, mainly before 8 p.m. with a low around 44. Friday will dawn cloudy, but skies will gradually clear until the day is mostly sunny with a high near 53.
Frost could develop in some areas early Saturday morning, but the day will be mostly sunny with a high near 56.
Sunday will be much the same, but showers could mar the day. The chance of rain is 20 percent, the weather service says.
For updated forecasts and conditions any time, check AnnArbor.com's weather page.