Posted on
Mon, Jun 6, 2011 : 5:55 a.m.
Rain delay: Completion of Washtenaw Avenue path in Ann Arbor pushed back a month
By Juliana Keeping
Soggy weather has delayed by one month the completion of a 1-mile non-motorized pathway on Washtenaw Avenue that will connect the University of Michigan campus to the Arborland shopping center.
Anne Warrow, a project manager for the City of Ann Arbor, said she hopes the path will be complete by the July 20 start date of the Ann Arbor Art Fairs.
The work schedule will depend in large part on the weather, Warrow said Thursday.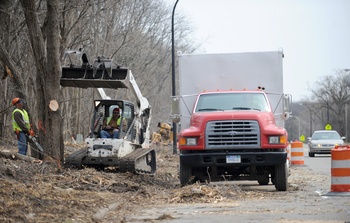 Angela J. Cesere | AnnArbor.com
This week, crews are pouring the foundations for retaining walls; the project will require about seven of them, Warrow said. The initial goal for a finished path was the end of June.
The path is being constructed on Washtenaw Avenue between Glenwood and Tuomy roads. It's part of the city's long-term plan that will eventually result in over 50 miles of bike paths throughout Ann Arbor. When the Washtenaw Avenue project is done, the city will be 37 miles toward that goal.
The $1.58 million project is being paid for with a combination of $748,675 in federal funds, $772,091 from the city's alternative transportation fund, and a special assessment from property owners along Washtenaw Avenue, Warrow said.
Juliana Keeping covers general assignment and health and the environment for AnnArbor.com. Reach her at julianakeeping@annarbor.com or 734-623-2528. Follow Juliana Keeping on Twitter.