Posted on
Wed, Jan 30, 2013 : 12:19 p.m.
Ranks of Merrill's Marauders thins: Ted McLogan, war hero and public servant, dies at 92
By Janet Miller
Edward A. "Ted" McLogan never considered himself a war hero.
That's despite strong proof to the contrary: A Bronze Star, a Purple Heart, membership in the fabled World War II Merrill's Marauders and the fact that a hill he helped secure in battle against the Japanese in Burma was named after him.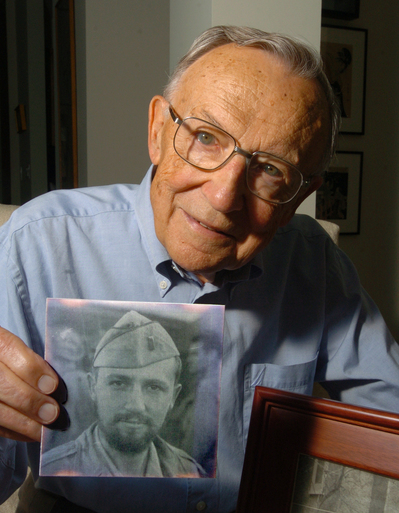 Ann Arbor News file photo
"He didn't think of himself as a hero, but he surely was," said his son, Matthew McLogan.
Ted McLogan, who graduated from the University of Michigan in 1942 and returned to the town of his alma mater a decade ago, died Jan. 25 at his Ann Arbor home at the age of 92. Services are scheduled for 11 a.m. Feb. 2 at St. Mary Student Parish, where McLogan married his college sweetheart, Beatrice Bouchard, 67 years ago.
A Flint native, Ted McLogan was a young and handsome ROTC graduate from U-M when he joined the 25th Division in Guadalcanal and the Solomon Islands as a second lieutenant. He soon volunteered to join a campaign behind enemy lines in Burma, known today as Myanmar, to wage guerilla warfare against the occupying Japanese forces in the mountainous jungle. This group of soldiers became known as Merrill's Marauders after Brigadier General Frank Merrill, who led them. More than 70 years after the campaign, only a handful of Marauders remain.
"The campaign was edifying. They were dropped behind enemy lines to frustrate the Japanese supply line. But their own supply lines were not good. There was massive starvation and terrible illness. The deprivation of the campaign was legendary," Matthew McLogan said.
Of the nearly 3,000 soldiers in the unit, roughly 200 survived to the end. Many were wounded or fell ill and were evacuated. Many died of malaria, typhus and dysentery, while others were killed in battle. "The enemy was only part of the problem," said Robert E. Passanisi, historian for the Merrill's Marauders Association who was 19 years old when he fought in Burma.
"There was near-constant fever, skin conditions, gastric problems. There was a rule: You had to run a fever of 103 degrees for three days straight to be considered sick," he said.
He added the 2,000-calorie K-rations — when supply lines were able to deliver — weren't nearly enough for troops marching 12-hour days carrying 90-pound packs, he said.
Every soldier who survived was awarded the Bronze Star. Near the end of the five-month campaign, Ted McLogan was wounded by shrapnel.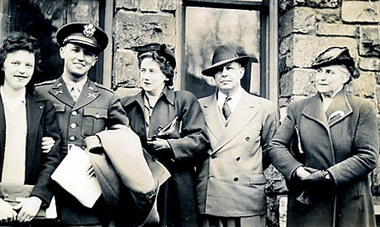 Courtesy photo via MLive
The story of the Marauders was told in a book, which details how Ted McLogan secured a hill, and later in a 1962 movie "Merrill's Marauders."Matthew McLogan remembers his father taking him to see the movie when he was a youth. "When we left the theater, I asked him if it was really that bad. He said, 'No — It was worse.'"
Ted McLogan, a platoon leader, and interpreter Roy Matsumoto became heroes for defending a hill against a Japanese attack, Passanisi said.
Ted McLogan's battalion spent 12 days trapped on the side of a hill, surrounded by the Japanese. Matsumoto, who visited Ted McLogan last year in Ann Arbor, eavesdropped as the enemy discussed their next move, allowing them to devise a plan where his soldiers booby-trapped their abandoned foxholes with explosives, luring the enemy into the trap. After fierce hand-to-hand combat, the Japanese retreated, and the Marauders nicknamed the hill McLogan's Hill in his honor.
It was a sense of duty that moved his father to enlist in the Army, volunteer to fight in Burma and become a public servant when he returned home, Matthew McLogan said. "He volunteered for the Marauders because he was asked. That was true his entire life: Service before self."
There's is a family with deep roots in Michigan public service, McLogan said. Ted McLogan's great grandfather helped found the Republican Party in Jackson in the 1850s, and his father served as mayor of Flint. McLogan was elected to the Michigan Constitutional Convention in 1961 and also served on the Genesee County Board of Commissioners.
McLogan was inducted into the U.S. Army Ranger Hall of Fame in 2001, the year after former Secretary of State Colin Powell won the honor. He raised seven children (one son and six daughters) in Flint where he managed the family's department store, McLogan and Austin. After the sale of the store, he spent the next 30 years in brokerage and financial services.
McLogan was a true war hero, Passanisi said. "I think every Marauder was a hero, just to have survived. But McLogan was also a great military officer who took care of his men. His strategy and intelligence were important to their survival."
McLogan is survived by his wife, seven children, 21 grandchildren and four great-grandchildren.