Posted on
Fri, Sep 7, 2012 : 1:48 p.m.
Ann Arbor SPARK forum on initiative to use renewable energy sources both 'civil and informational'
By Ben Freed
Attendees of a forum at Ann Arbor SPARK on Thursday were treated to a wonky and informative policy debate about the "25 by 25" ballot initiative.
If approved, the measure would amend the state's constitution to mandate an energy policy that 25 percent of Michigan's electricity would be generated by renewable energy sources by 2025.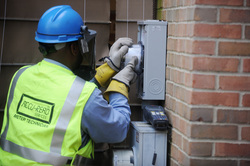 Melanie Maxwell I AnnArbor.com
With all of the
political maneuvering
,
television advertisements
, and
legal holdups
over which ballot measures will be voted on during the elections in November, many felt the event was refreshing.
"I thought it was a good event, and I thought the speakers were both informative and civil," Charles Griffith said.
"Of course, I happen to think the 'pro' side won all of the arguments."
Griffith, director of the Ecology Center's climate and energy program, had already made up his mind about the initiative before he came to the event, but he said it was good to hear both sides to have a better understanding of the issue.
Douglas Jester, the research director for the campaign advocating the measure, spoke first and made the case that the proposal is practical, it would decrease cost for consumers, increase jobs, and improve public health. He also said the measure was necessary for Michigan's economy.
"Our current energy model is heavily reliant on coal, and we import that coal," he said.
"That means we send our money elsewhere, we call that burning money to produce energy. That's money out of Michigan's economy. There certainly are jobs at the power plants… but a lot of the money is lost to fuel and we send that out of state."
Jester said that Michigan currently is fourth in the country in solar energy jobs and first in clean energy patents, but wind energy was the future for the state. According to maps he presented, more than half of Michigan's land is suitable for wind farms with windmills 100 meters high.
"Public perception tends to lag the realities when it comes to the cost of renewable energy," he said.
"At the time the current standards were adopted we thought renewable energy would be more expensive than it is now."
The current standard he referred to is Public Act 295 which mandates 10 percent renewable energy usage by 2015. DTE Energy executive director of energy efficiency and renewables Irene Dimitry said that while her company supported that legislation, they were not in favor of the new ballot measure.
"We [DTE] absolutely support renewable energy," she said. "We just don't think this is the time or the way to talk about renewable requirements. Michigan's current framework is working. It's driving billions of dollars into the state."
Dimitry said the wording of the ballot initiative is too vague, and it actually could hinder technological developments by limiting what is considered "renewable."
"If we get locked in [by this measure] we'll be on a forced march trying to get there [to 25 percent]," she said.
"We won't be able to make adjustments and be flexible."
Both speakers had plenty of numbers in their presentations, and for the most part they matched up fairly closely. However, Dimitry accused supporters of the measure of inflating the number of jobs that would be created as a direct result of the amendment, while Jester insisted that estimations that costs would go up were inaccurate.
"We think that this [the measure] begins to mitigate rate increases that have been occurring and will occur," he said. "And somewhere out in the 2020 range we project we will actually start to see bills that are lower than they otherwise would have been."
The amendment has a 1 percent rate cap in place in case Jester's projections prove to be wrong, but Dimitry said that cap simply would extend the time frame past 2025 — not save consumers money.
The panel also included Bruce Goodman, an alternative and conventional energy lawyer, who spoke first to lay out Michigan's current energy policy, introduce the proposal, and explain what would happen practically if the measure was passed.
Goodman said Michigan's utility companies operate under the regulatory compact that gives them a monopoly in exchange for being regulated by the state and agreeing to serve everyone in their service territory. Part of the agreement is that costs of energy purchases can only be passed through to the consumer without markup. The utilities make profit by building new products or plants and asking permission from the Michigan Public Service Commission to raise rates to collect a return on their investment.
This system means DTE and Consumers Energy, who also have taken a stand against the measure, would be able to profit off any new renewable energy plants they build, but not on renewable energy they buy from other private companies.
Ben Freed covers business for AnnArbor.com. Reach him at 734-623-2528 or email him at benfreed@annarbor.com. Follow him on twitter @BFreedinA2