Posted on
Fri, Dec 2, 2011 : 5:58 a.m.
Pioneer's Argus Planetarium needs donor for $80,000 in critical upgrades
By Janet Miller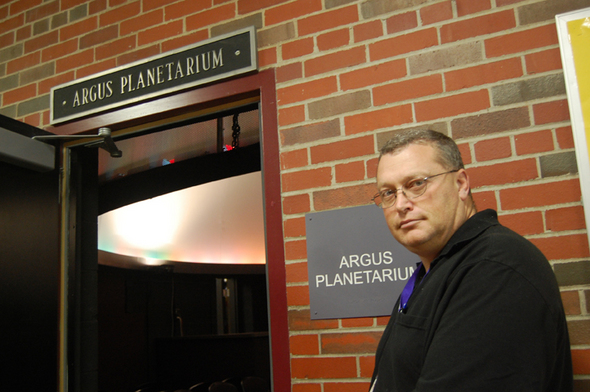 Janet Miller | For AnnArbor.com
Unless $80,000 can be raised to upgrade technology, the lights at the Argus Planetarium housed inside Ann Arbor's Pioneer High School could go dim.
The planetarium, which became the nation's first high school planetarium when it was built in 1956, operates on borrowed time, said Pioneer teacher and planetarium director Ron Robinson.
But instead of looking internally for funding - the district is staring at $14 million in budget cuts for next school year - the school district is looking for a donor or group of donors to underwrite the project, said Chris Barry, the district's new grants coordinator. Naming rights could be part of the bargain, she said, although the Argus name would not be entirely lost.
While the district invited a group of about 25 potential donors to a planetarium show earlier this fall, no one has stepped forward with a donation, Robinson said. The Argus Camera Company - the Ann Arbor-based maker of the top-selling Argus cameras - funded construction of the planetarium 55 years ago. While Argus Camera is long-gone from Ann Arbor, there are Argus camera collector groups, and some of those members were invited to the show, Robinson said.
The planetarium's original Spitz A-1 projector lasted 45 years and was finally retired in 2002 after a man in Egypt who made the bulbs died and the bulb stockpile depleted. He was the sole source for the bulbs. Some $200,000 from a larger school bond issue was used to upgrade the planetarium with a digital projector, a new 24-foot dome and seating and a new computerized data, audio and video system that ran the show. And it improved what was offered, he said. "We no longer show just the stars."
But 10 years later, that system, like most computers, needs to be replaced, Robinson said.
The planetarium needs computer software and hardware upgrades to keep operating, Robinson said. The system has started to fail, he said.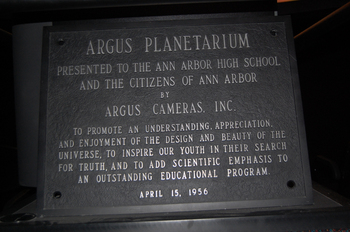 Janet Miller | For AnnArbor.com
"Things can get quirky where we have issues with the audio kicking on and off." For the first time, schools outside the Ann Arbor School District, who would pay a fee, can no longer book the planetarium. Robinson said he spends four to six hours a week working on the system to keep it running, adding that he didn't expect the system to last past the end of the school year.
"And that's the best I expect," he said. "It could (end) tomorrow."
The system runs through its four hard drives about every six months, Robinson said. Those hard drives are no longer made and can no longer be replaced. That could mean the Argus Planetarium could lose its place in history as the oldest continually operating planetarium at any school or college in the western hemisphere, Robinson said.
And even if $80,000 is raised, that probably won't be the end of it, Robinson said. The technology likely will need to be updated every decade.
While district officials supports the planetarium, Robinson said he's been told to find outside funding. "The science budget has been cut pretty deep this year," he said. More is to come.
All of the district's third- and sixth-graders attend a planetarium show, along with 10th-grade earth and physical science students. When it was operating at full capacity, between 10,000 and 15,000 students saw a show each year, Robinson said.
"I would hate to see something like this go. This is so special. It's something no other high school in the world can talk about. We have the bragging rights of being first."