Posted on
Thu, Jun 28, 2012 : 11:48 a.m.
Reactions to the ruling: Fight over Affordable Care Act continues even after Supreme Court decision
By Ryan J. Stanton
The social media world is abuzz with reactions to the U.S. Supreme Court's ruling in favor of Barack Obama's Affordable Care Act.
U.S. Rep. John Dingell, who fought for the health care law, tweeted this: "I know my father who started this fight is smiling from up above."
Republicans are saying the fight for full repeal begins now and the way to get rid of the health care law is to defeat Obama in November.
"November just became even more important. We need a #FullRepeal of this massive tax increase," tweeted U.S. Rep. Tim Walberg, R-Tipton.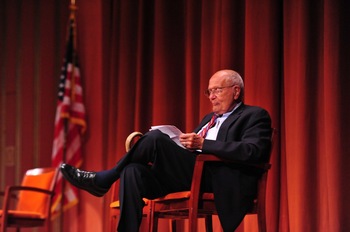 Ryan J. Stanton | AnnArbor.com
But Democrats are saying it's time for Gov.
Rick Snyder
and other Lansing politicians to stop playing partisan games and start working together to implement health exchange legislation and ensure that all Michiganders have access to quality, affordable health care.
In a blog post on his Facebook page, Snyder said the Affordable Care Act "misses the point on the reforms needed in our health care system" and has "been a detriment to our country's economic recovery by causing massive uncertainty regarding medical costs."
Dingell, D-Dearborn, offered a different opinion, saying the Supreme Court's decision benefits millions of Americans.
"By upholding the Affordable Care Act, the Court affirmed to the American people that quality, affordable health care is their right; that they live in a country where basic human rights are valued above all else," he said in a statement. "This ruling guarantees that 17 million children can no longer be denied coverage for pre-existing conditions. It ensures 105 million Americans no longer have a lifetime limit on their health insurance, and more than six million young adults now have health insurance through their parents' plans."
Dingell said he looks forward to collaborating with the state of Michigan as it develops health insurance delivery programs tailored specifically for the needs of its residents.
"I hope my Republican friends in Congress take this ruling for what it is, respect it, and accept that it is time to move on," he said. "I hope they stop wasting the time of Congress and that of the people who put them in office with constant attempts to repeal bits and pieces of this constitutional law. I will fight these attempts tooth and nail."
Walberg said he isn't backing down, though.
"I remain committed to defunding, dismantling and repealing the law," he said in a statement after the rulilng. "Health care decisions should be made by patients, families and their doctors, not by bureaucrats in Washington who are burdening seniors and future generations with less choice, fewer services and more debt. Let it also be noted that the burden includes increased taxes on all and especially those with the least ability to pay."
Snyder said while he might not agree with everything in the law, now that the Supreme Court has essentially upheld the act, the state must act quickly to avoid an undue burden on Michigan residents and job providers.
"Working with our legislative leaders to establish the MiHealth Marketplace will allow Michiganders to make decisions regarding what will be covered as opposed to Washington, D.C., making those decisions for us," he said. "It will also allow us to draw down federal dollars to assist with the costs of complying with the law."
Michigan Chamber of Commerce officials objected to the ruling and said they remain hopeful Congress will repeal and replace the law with measures to control costs and improve quality, reform the insurance market and create a streamlined marketplace to purchase insurance.
Ryan J. Stanton covers government and politics for AnnArbor.com. Reach him at ryanstanton@annarbor.com or 734-623-2529. You also can follow him on Twitter or subscribe to AnnArbor.com's email newsletters.