Posted on
Fri, Dec 9, 2011 : 10:57 a.m.
Reader reminisces about old Mott hospital during debut of new facility; local pupils take judge's prize in state LEGO competition
By AnnArbor.com Staff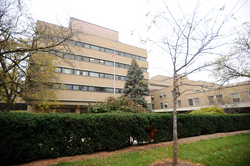 Melanie Maxwell | AnnArbor.com file photo
From a reader's reminiscences about the old Mott Children's hospital to Ann Arbor pupils winning a prize in a state LEGO competition, here's a roundup of some of the stories posted on AnnArbor.com's Community Wall this week:
By: scott newport: The View, (an intimate essay about the new C.S. Mott)
Even though I love the new building I have so many treasured memories of the old. I first met her back in 2002, my son Evan spent the first 10 months of his life there. He died a couple of years back; Mott's compassionate care helped him to have a happy childhood.
By: Pamela Gossiaux: Ann Arbor Christian School Takes Judges Award at State Finals for FIRST LEGO League Project
Ann Arbor Christian School students' first LEGO League team impressed judges at Saturday's state finals when they presented Germ Juice, a unique technology that addresses the problem of illness spread through improper hand washing by food service workers.
By: AT&T Michigan: AT&T Gives $6,000 to United Way of Washtenaw County
By: U-Meet the Athlete: Youth Softball Clinic at the University of Michigan and Youth Cheerleading Clinic at the University of Michigan and Youth Dance Clinic at the University of Michigan
By: Marie Wolfgram: Local Runner and Coach qualifies for 2012 Olympic Trials
By: Jennifer: Childless in Michigan
By: sawashtenawcounty: Salvation Army and WAAM Talk Radio 1600 to broadcast live for toy drive and Builders and Remodelers Association raises $154,000 for The Salvation Army of Washtenaw County Staples Family Center
By: Bryan Freeman: United Bank & Trust Hosting Holiday Food Drive to Benefit Local Food Pantries
By: Bob Krzewinski: Ypsilanti Winter Bicycling Talk and Ypsilanti Annual New Years Day Community Walk
By: OneAnnArborVoice: Amnesty International Ann Arbor invites you to participate in the Global Write-A-Thon!
By: Rebeccah: Winter Freeze Averted With Wood Burning Fireplace Donation
By: Amanda Stanger-Read: Announcing Arts in Motion Dance and Music Studio Open House 12/10/11!
By: Sarah Nicoli: Huron High School Fundraiser Will Get Your Motor Running!
Arbor.com's Community Wall is a spot for local people to post local stories, news and announcements. To post a story, sign in to AnnArbor.com, then go to www.annarbor.com/community and use the Got News? Tell Us function at the top to submit your news. If you have a photo to add, e-mail it to us at community@annarbor.com and we'll insert it into your story.