Posted on
Tue, Jan 24, 2012 : 10:39 a.m.
Readers discuss how to navigate a roundabout; Vintage baseball team forming in Dexter
By AnnArbor.com Staff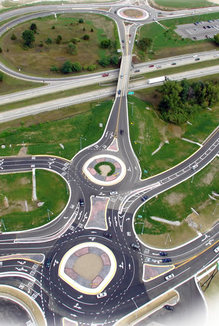 From a reader discussing how to navigate a traffic circle to the formation of a vintage baseball club in Dexter, here's a roundup of some of the stories posted on AnnArbor.com's Community Wall over the last few days:
By: David Fugenschuh: Three things to do, to successfully negotiate a traffic circle
The proliferation of traffic circles in the US, as bridges and exit ramps are being rebuilt, has brough a bit of Great Britain to the US. However, since the majority of US drivers have never had the experience of a British traffic circle, they can be a little intimidating to negotiate.
By: unionbbc: A Vintage Base Ball Club Is Being Formed
Vintage base ball has been around for around two decades and is quickly spreading throughout this area. With 25+ teams in Michigan alone there is plenty of competition and we are looking to bring it to this area.
By: Careers Through Faith: Career Workshop - Finding Your Next Job With Faith NOT Fear
By: Go LIke the Wind Montessori: Montessori Middle School Open House
By: St Francis Church: 7am Fri, Feb 3 - 5th Annual Business Breakfast Forum at St. Francis
By: Dawn Farm Education Series: Spirituality and Recovery From Addiction
By: David Dye: Dexter Road- bureaucratic leg lifting has left it covered with snow.
By: Mariella Macozzi: 2012 Wolverine Health Explorers Summer Camp: Registration Now Open!
By: Lisa Vickers: Alzheimer's Association Support Group Offers Hope to Caregivers
By: Karen Lewis: "Feet and Friends Fighting Colon Cancer" Kick Off Event
By: Sarah Nicoli: Enter the Huron H.S. Raffle to Win a 2012 Ford Escape XLT!
By: Denise Walter: 'Dreams By Design' Mardi Gras Event to Support Disabled Veterans
Arbor.com's Community Wall is a spot for local people to post local stories, news and announcements. To post a story, sign in to AnnArbor.com, then go to www.annarbor.com/community and use the Got News? Tell Us function at the top to submit your news. If you have a photo to add, e-mail it to us at community@annarbor.com and we'll insert it into your story.