opinion:

Readers weigh in on Liberty Plaza: Are Ann Arborites enabling bad behavior?

Posted on Fri, Sep 28, 2012 : 5:58 a.m.
Editor's note: This story has been updated to remove a statement about gangs in the city.
Liberty Plaza, a two-tiered park at Division and Liberty streets in Ann Arbor, is not only one of the most visible spots in Ann Arbor, it's also one of the most controversial.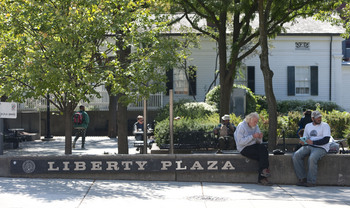 Courtney Sacco | AnnArbor.com
For evidence, check out some of the reaction by AnnArbor.com readers to a story published on Thursday.
Reader reaction ranged from compassion for the plight of homeless people in Ann Arbor to calls for Ann Arborites to no longer "enable" homeless people. Many of the comments condemning the park got the most positive votes and reactions criticizing those who spoke against homeless people received the most negative votes.
The comment with the most positive votes came from Stephen Lange Ranzini, who wrote he no longer feels safe bringing his children to Liberty Plaza.
"As a downtown resident for the past 12 years, I have noticed over time a large increase in problems and that other parks downtown such as West Park now have major problems with gangs and drug dealing," Ranzini wrote. "Again, last night I discussed with my wife her concerns that she did not feel safe taking our children to any of the parks downtown anymore. This is a serious problem, which has a negative impact on the quality of life for downtown residents that must be addressed by the police and our city leaders."
Ranzini wrote a column for AnnArbor.com in May detailing his concerns about crime in Ann Arbor. His sentiments on not being comfortable going near the area were echoed by numerous readers.
One of the sentiments expressed by many readers was that Ann Arbor residents have become too tolerant.
Dexter Driver pointed toward Jacob Dorsten, a homeless man who spoke to AnnArbor.com for Thursday's story, as an example of what's wrong with Ann Arbor residents' attitude toward homeless people. Dexter Driver stated Dorsten's admission that he panhandles to get money for alcohol, and has turned down offers for food, as evidence Ann Arborites are being taken advantage of.
"Quit feeling sorry for and enabling these 'homeless' people. Most, as illustrated in the story, are substance abusers not wishing 'treatment,'" Dexter Driver wrote. "One reason cities have police is to keep the streets and municipal areas safe and available for normal, law abiding citizens. Get tough with these unashamed jokers and let's retake the city."
A2comments agreed with Dexter Driver's belief that Ann Arbor residents are too tolerant of misbehavior in Liberty Plaza and looked to the Ann Arbor Police Department to establish more of a presence in the area.
"If the city put a strong police presence there for a period, then sporadically over a period of time, this would not be an issue," A2comments wrote. "Way too tolerant of what goes on there."
The comment that received the most negative votes on the story was one that sympathized with the struggles of the homeless.
Sooze wrote Ann Arbor is a magnet for the homeless because of the services offered in the area. If a crackdown were to take place, Sooze stated being concerned about whether the situation would go away and questioned what structural changes would have to take place to fix homelessness all together.
"The nation has hundreds of thousands of homeless people always being asked to move along and for them its a constant struggle to find a place to just sit down. We do offer food and shelter here and are a magnet, but do we suddenly crack down?" Sooze wrote. "The jail would be full at our expense, but more might head south than usual. This situation will not go away soon as most are substance abusers and not employable. Many are Vietnam vets and as the current vets get older many will be homeless too. We are a post-industrial society with no work and no place to go for much of our population."
What do you think of these comments? Do you agree with Dexter Driver that Ann Arbor's social services are contributing to unsavory characters flocking to the area? Or do you agree with Sooze and believe the homeless are getting a raw deal in modern American society?