Posted on
Sat, Mar 24, 2012 : 11:17 a.m.
Record warm weather prompts Ann Arbor compost collection to begin one week early
By Danny Shaw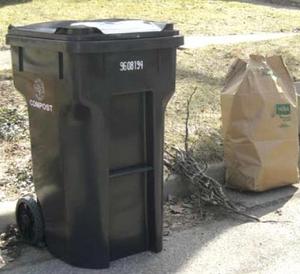 Photo courtesy of City of Ann Arbor
Ann Arbor
residents planning to do yard work this weekend can look forward to the city resuming curbside compost collection on Monday.
According to a news release, the "unusually warm weather in March" prompted city officials to move the start of compost pickup a week earlier than planned. Starting Monday morning, curbside compost will be picked up on the same days as regular trash collection.
Tom McMurtrie, Ann Arbor solid waste coordinator, said the date change was in response to requests from residents looking to dispose of yard waste, prompted by record-breaking warm temperatures.
The compost program accepts yard trimmings including leaves, plants, garden debris and twigs.
Ann Arbor residents using optional compost carts may also place grass clippings, fruit and vegetable scraps, and un-coated paper plates, paper cups, and napkins inside compost carts for municipal collection, states the news release.
The compost program accepts brush and tree limbs, up to 6 inches in diameter and 4 feet long, tied into bundles up to 18 inches in diameter. Each bag or bundle of compost has a maximum weight of 50 pounds. The compost program does not accept plastic bags, trash, stones, dirt, sod, animal waste or logs over six-inches in diameter.
Residents must place compost at the curb before 7 a.m. on their regular trash pickup days.
Residents can use paper yard waste bags, purchased from local retailers, or can purchase city-approved compost carts for $50 from the Customer Service and Payment Center in city hall.
For more details about the compost collection, including what materials are accepted, click here or call 734-994-7336.