Posted on
Thu, Aug 30, 2012 : 2 p.m.
Records show Ann Arbor DDA collected $35K last year from people paying to park downtown after hours
By Ryan J. Stanton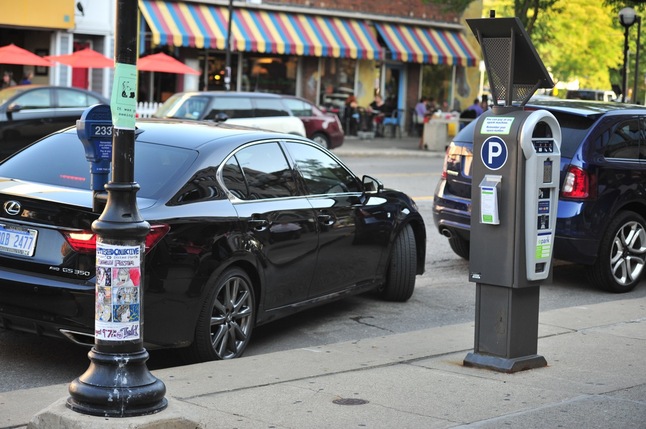 Ryan J. Stanton | AnnArbor.com
The
Ann Arbor Downtown Development Authority's
electronic pay stations netted $35,000 this past year in extra revenue from people who
paid to park after enforcement hours.
That averages out to $115 per day or $2,871 per month in payments from people who didn't need to pay because on-street parking was supposed to be free at the time they arrived, according to records released by the DDA at a meeting of its Operations Committee on Thursday.
The figures provide only a snapshot of the issue. They don't include money fed after hours into the old-style parking meters, which still are prevalent in some areas of downtown.
Ryan J. Stanton | AnnArbor.com
While
some want to see the e-pay meters reprogrammed
so they won't accept payments after hours, DDA Chairwoman
Leah Gunn
said she thinks it's already clearly stated that the hours of operation are 8 a.m. to 6 p.m. Monday through Saturday.
"Every kiosk and meter has the enforcement hours right on them," Gunn said. "Not our fault if people put money in."
Other DDA officials said they didn't think $35,000 was a large enough sum to worry about, but they're willing to look at the issue further.
"I think all the meters and e-park stations clearly say that enforcement stops at 6 p.m., so I don't know if there's a whole lot more we can do than we've already done. We'll certainly look at it," said DDA Treasurer Roger Hewitt, who also hinted at a future expansion of enforcement hours.
Joe Morehouse, the DDA's deputy director, said reprogramming the machines and adding a home screen informing people of the hours might just slow down the process for people trying to pay.
The Operations Committee on Thursday received a financial report for the fiscal year that ended June 30, showing parking revenues came in slightly higher than budgeted at nearly $17.2 million. That left the parking fund with a $2 million surplus, as expenses came in at $15.2 million.
The DDA saw a 2 percent increase in the number of hourly patrons, ticking up to 2.23 million, while revenues were up 12 percent from the $15.2 million collected the year before.
Parking meters were the biggest revenue generator at $3.4 million, followed by the Fourth and William garage ($2.7 million), Maynard ($2.5 million), Ann Ashley ($1.8 million), Liberty Square ($1.6 million), Forest Avenue ($1.5 million), and Fourth and Washington ($938,680).
Tax increment financing revenues channeled to the DDA totaled about $3.7 million for the year, slightly above projections. The TIF fund still showed a deficit of $1.4 million for the year, while the parking maintenance fund showed a deficit of $226,756.
Ryan J. Stanton | AnnArbor.com
Another report distributed at Thursday's meeting showed the DDA collected $301,662 in parking revenues during this year's Art Fair — a nearly 30 percent jump from the year before.
The DDA collected $213,250 last year. The numbers have steadily grown just about every year since 2001 when the DDA brought in less than half the revenue it's getting now.
The new Library Lane parking garage, which opened just in time for Art Fair, accounted for nearly $33,000 — or 11 percent — of the parking revenue from this year's festival.
A detailed breakdown of the Art Fair parking revenues showed 69 percent of people chose to pay with cash while 31 percent paid with credit card.
Hewitt used Thursday's meeting to call for a retreat to be held in either late September or early October to discuss the future of the DDA's parking system.
Now that DDA officials have their $50 million underground parking garage project behind them, he said, it make sense to turn attention to demand management. He said he wants to work out a strategy for getting people in and out of downtown for the next 10 to 20 years.
"The revenue in the parking system is very encouraging," he said. "Clearly with these numbers there is increasing demand, even with the new structure.
"We want to get as many people into the parking system as we can," he added. If demand is going to continue to increase, he said, it's necessary the DDA maximize usage of the system.
The DDA has talked about ways it can better manage downtown parking by introducing a tiered rate structure, making it more expensive to park in high-demand areas and less expensive in other areas. It also has talked about extending enforcement hours later into the evening.
"I don't think we want a system so complex it confuses customers, but clearly pricing influences behavior," Hewitt said.
At some point, Hewitt added, the DDA is going to run out of street space to bring people downtown, let alone money and locations to build new underground parking garages. He said the new Library Garage likely will be the last one built for at least the next several years.
Ryan J. Stanton covers government and politics for AnnArbor.com. Reach him at ryanstanton@annarbor.com or 734-623-2529. You also can follow him on Twitter or subscribe to AnnArbor.com's email newsletters.