UPDATED:

Recount upholds Teall's primary win for 4th Ward seat on Ann Arbor City Council

Posted on Tue, Sep 4, 2012 : 2:52 p.m.
Tuesday's ballot recount by the Washtenaw County Board of Canvassers upheld incumbent Margie Teall's win over challenger Jack Eaton in the Democratic primary for the 4th Ward seat on the Ann Arbor City Council.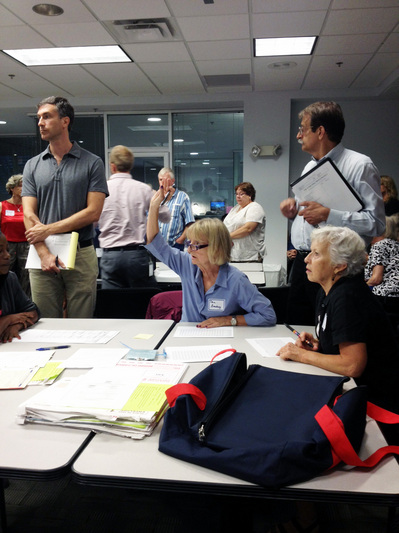 Amy Biolchini | AnnArbor.com
Eaton filed for a recount after his loss to Teall in the primary. The original vote was 866-848.
As a result of the recount, Teall gained one vote from Eaton in the sixth precinct. In the ninth precinct, each candidate lost one vote.
Ballots cast in the second precinct were not recounted because the zippered pouch in which they had been originally stored was not sealed correctly -- a similar problem that arose with the Sylvan Township ballots as well as with two of the three precincts in Augusta Township.
For the second precinct, the original vote of 13 votes for Eaton and 11 for Teall remains the final count.
During the recount, canvassers first check the numbers on the sealed packages of ballots from each precinct with the number recorded in the poll book.
They then count the number of ballots in each precinct to make sure it matches the total number recorded.
Then, a canvasser reads aloud the candidate of choice from each ballot, and two other canvassers each record the vote. The entire process is supervised by another canvasser.
Two representatives from each candidate are also permitted to observe the process and record the vote totals as they are read aloud. Though Teall was present at the recount Tuesday, Ann Arbor City Councilman
Christopher Taylor
served as her observer for much of the recount.
The individual who requests a recount has to pay $10 per precinct. There are nine precincts in the 4th Ward.
Teall beat Eaton two years ago with 69 percent of the vote. She has been on council since 2002.
Eaton said that he plans to watch the votes by Ann Arbor city council members closely over the next year to see if he should run for office in one or two years.
"When it's this close, you have to ask for a recount," Eaton said.
The recount of the 4th Ward race was among six races and issues that were requested to be recounted by the Washtenaw County Board of Canvassers. The outcomes of the races did not change for the precincts that were able to be recounted.