Posted on
Sun, Jun 24, 2012 : noon
Recycling rewards program to end Aug. 31; city to use savings on commercial recycling
By Amy Biolchini
Aug. 31 will be the last day for Ann Arbor residents to earn reward points as an incentive for recycling, as the city ends its contract with Recyclebank.
Residents who recycle are rewarded with points from Recyclebank that are redeemable at retail outlets and restaurants. The program was offered to residents living in single-family homes and duplexes, but was not available to people living in apartment complexes and condominiums.
The Ann Arbor City Council decided to nix its contract with Recyclebank after the increased tonnages of recyclables weren't as high as expected.
Recycling pickup schedules in the city will continue as usual after Aug. 31. People with Recyclebank points will still be able to redeem them at businesses and restaurants after the cutoff date.
The city is currently paying Recyclebank $103,500 to operate the rewards program. Future cost-savings from the elimination of Recyclebank will be put toward the city's commercial recycling program - which will be greatly expanded in 2013, said Tom McMurtrie, the city's solid waste coordinator.
The city mandated several years ago that businesses within its jurisdiction implement a recycling program.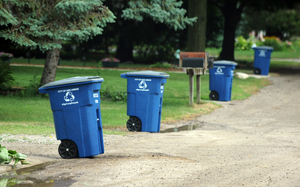 File photo | AnnArbor.com
Within the next year,
Recycle Ann Arbor
will be working to sign up every business for bins and set a collection schedule, said
Kendra Pyle
, senior recycling coordinator for Recycle Ann Arbor.
Currently, three out of the city's seven recycling trucks are automated, and the plan is to buy four automated trucks to complete the fleet, McMurtrie said.
"The next year, starting Sept. 1, will be the telling year," McMurtrie said. "It will tell us whether Recyclebank had an impact … If the numbers are stagnant after Sept. 1, that would indicate that Recyclebank wasn't having much of an impact."
But McMurtrie said he expects to see a 5 percent to 10 percent decrease in the number of tons of recycleables after the removal of Recyclebank.
Ending its contract early with the company will cost the city $90,000 in an equipment purchase settlement and $17,200 for 60 days of contractual notice.
Last year, the city re-negotiated its contract with Recyclebank to pay $50,000 less per year with the same services provided.
A consultant study had predicted 18,425 tons of recyclables for fiscal year 2010-11 would be collected, but the actual number was closer to 10,800 tons. The study was based on the experience of other communities with the Recyclebank program and single-stream recycling systems, McMurtrie said.
In July 2010, the city of Ann Arbor's recycling system underwent a transformation to a single-stream operation, meaning all materials are placed in the same container on the curb for collection.
Two months later, at the beginning of September 2010, the city signed on to the Recyclebank incentive program.
Ryan J. Stanton | AnnArbor.com
To gauge Recyclebank's effectiveness, McMurtrie said, the city's single-stream recycling program should have been implemented for a year before adding Recyclebank as an incentive.
Pyle said she believes the impact on recycling from eliminating the Recyclebank service will be minimal because of the strong environmental ethic of many Ann Arbor residents.
"I think the single stream had a big influence on the amount of recycling because it's easier," Pyle said.
Since the city's switch to single-stream recycling, recycling rates in the city increased by 24 percent and trash tonnages have been reduced by 10 percent.
The number of recycling carts deployed as part of the single-stream program also turned out to be 9.2 percent lower than initial projections that anticipated 32,779 carts being deployed.
City officials have said over-projections and subsequent shortfalls in collections after the implementation of the Reyclebank program left a $337,527 hole in Recycle Ann Arbor's budget this past year.
Amy Biolchini covers Washtenaw County, health and environmental issues for AnnArbor.com. Reach her at (734) 623-2552, amybiolchini@annarbor.com or on Twitter.