Posted on
Fri, Jul 30, 2010 : 6:02 a.m.
Recycling in Ann Arbor? Your questions answered
By Tina Reed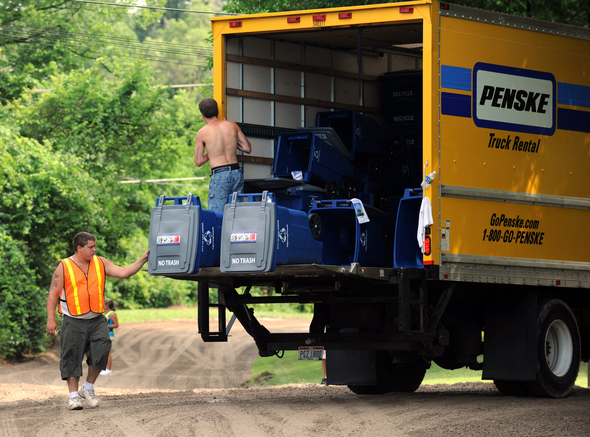 Lon Horwedel | AnnArbor.com
Fans tailgating in Ann Arbor before University of Michigan football games should think twice before throwing out all their used plastic Solo cups this year. For the first season ever, those items are among those that can be recycled since Ann Arbor began its new single-stream recycling program.
Didn't know that's among the additions to recyclables made in Ann Arbor? You're not alone.
The city upgraded its Materials Recovery Facility, or MRF, this summer to accept single-stream recycling - rather than sorted paper recyclables vs. materials like glass or aluminum.
The city has been launching full-scale information campaigns to get the word out about the changes to its curbside recycling, which began July 5.
We caught up with some folks deeply involved with the program to answer some of the most commonly asked questions about how it all works. Here's what they said:
Q: Why single-stream?
A: "Single-stream recycling is a more cost-effective, more convenient way to collect and process recyclables, and it allows us to take more types of materials that our former plant couldn't accept," said Nancy Stone, spokeswoman for the city's public services area.
Q: So when do I start putting all recyclables into a single container?
A: Now. The program officially started July 5, and although carts are still being distributed in some neighborhoods, everyone should be participating, Stone said. "As far as I know, tonnages are up," Stone said. "But it's hard to get the message out that even though folks haven't gotten their carts yet, they don't need to separate their recyclables anymore. People are reluctant to mix."
Q: So I haven't gotten my cart yet. What's the deal?
A: If you've heard from friends who have received their carts and live in other neighborhoods, you just might be living in an area that is scheduled to get carts at a different time. To see details about when folks are scheduled to get their carts (which has been a few days off schedule) visit http://www.a2gov.org/government/publicservices/fieldoperations/solidwasteunit/Pages/RecyclingCartDeliveryAreas.aspx. If your neighbors on the same block have gotten their carts but you never did, you might want to call Recycle Ann Arbor at 734-662-6288.
Q: What was added as a result of single-stream recycling?

A: "We officially added freezer boxes, things like Lean Cuisine, those boxes," Stone said.
• "For scrap metal, in the past we were less eager for things like toasters but now - even with the cords attached - we can accept things like that," she said.
• Plastic bottles now include numbers 4, 5, 6 and 7. "A lot of them look like shampoo bottles, vitamin bottles, prescription vials," Stone said.
• "We've added the tub shape like a margarine tub shape and a cup shape like an iced tea cup from a café. But with these things, we're still not interested in those lids. Just the tub shape," Stone said.
• "Yogurt and butter tubs really have been the big request. There isn't a single (recycling center) tour that goes by where someone didn't ask about why we wouldn't recycle those. It's great now we're able to respond to that request."
• "The last piece is bulky plastics. Really they're called bulky rigid and it can get confusing … the idea is, it's a tub or cup shape, anything goes," Stone said. Bulky plastics usually include things like old broken plastic lawn furniture or laundry baskets.
• See an official list of recyclable materials here.
Q: What can't be recycled with this switch?
A: "What we really don't want are plastics #3 - and there are really few in the market," Stone said. "We don't want biodegradable plastics or things that are labeled 'Compostable' or 'Made with corn starch.' The reason for that is those plastics is a mixture that is designed to rot and we're interested in finding plastics that can be melted down for reuse."
"Plastic bags and styrofoam (like packaging material) can't be recycled. They are materials that get into the gears of the machinery at the recycling center and can contaminate. But with plastic bags, all the local grocery stores accept them, so it's easy to find a place to take them back," Stone said.
The recycling center had been accepting Pyrex and ceramic containers and batteries in the past but no longer does. It also can't recycle light bulbs, electronics or hard cover books.
Q: What about folks who drive into Ann Arbor to bring their recyclables into the drop-off station? Should they continue to sort?
A: Yes they should continue to sort, said Recycle Ann Arbor spokeswoman Jean Brown. It's a different recycling program from the city's and the destination of the recycled items is often not the Ann Arbor MRF.
Q: Ok, I've got an item I know is recyclable. Do I really have to wash it that well?
A: Short answer: Yes. "If you don't, it creates odors and the potential to attract bugs," Stone said. "And because there is optical scanning that helps sort, if there are contents in the bottle, it throws off this step … A clean container is what we're looking for."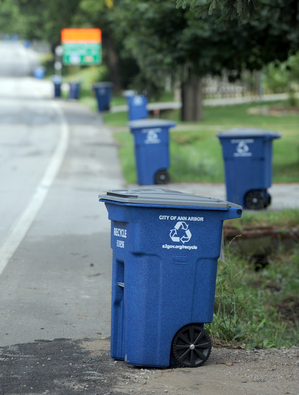 Lon Horwedel | AnnArbor.com
Q: Why can I only recycle bottle and tub shaped items? And why can't you take lids if you can accept the containers they come on?
A: Imagine a conveyor belt with hundreds of items, which largely resemble items of spread out trash, chugging along on it. A mixture of different scanning technology, mechanized hands and human hands work together to grab items and sort them.
"We just can't effectively sort things that don't have a good shape and weight to them because it can be easy for them to fall flat on the belt or fall into the paper waste," Stone said.
And for those who think they'll just pop those yogurt lids back on the container for recycling, think again. It's not a very helpful solution because the weight of other recycled items usually pops the lid off anyway. And for those lids that remain on … well, there's always the concern about what sort of items could be hidden inside that could be hazardous or just plain gross for the human hands that have to sort them. They'll probably get tossed into the trash rather than be recycled, Stone said.
Q: The new RecycleBank program is supposed to reward participants with incentives. How does that work?

A: RecycleBank is a company that runs a program to reward individuals along a particular trash route who recycle. On pickup day, each individual cart - with its RFID tag - gets a credit for contributing to the weight of recyclables along the route in which it's collected, said Tom McMurtrie, the city's solid waste coordinator. That weight is converted into RecycleBank points that are distributed to houses on that particular route.
• See the city's explanation of RecycleBank here.
Q: Ok, but wouldn't that system be pretty easy for folks to scam? For instance, couldn't someone increase the weight of their recycling by throwing bricks into their bucket?
A: "We have cameras in the trucks. If something tipped like that, they will be noticed and tracked back to the RFID," McMurtrie said. The city also has hanging door tags it can use to alert the resident to recurring recycling mistakes, he said.
Q: I want a different sized recycling cart. Is it OK if I just trade mine with someone else?
A: No. In order to offer the incentives for recycling participants through RecycleBank, each new cart is linked with its address with a radio-frequency ID tag, Brown said.
Q: What are these rewards from RecycleBank and how do I get them?
A: From the city: "First you will have to set up your account. You will be mailed instructions on setting up your RecycleBank account after the recycling carts are delivered and before Sept. 1. Once set up, you will be able to access your RecycleBank account online or via phone to check your points and shop for rewards."
According to RecycleBank spokesman Jeff Harse, a household can earn enough points to redeem a reward after a week or two of recycling. To give an example, a member on a route that averages 2 pounds of recycling per participating household can earn five RecycleBank points. Two pounds of recycling is equivalent to 36 plastic bottles, 64 soda cans, four glass bottles or two cardboard boxes.
The points can be redeemed for rewards from national retailers and brands like Nature Made, Coca-Cola, CVS Pharmacy and Bed Bath & Beyond. They can also be redeemed at local businesses, including 16 Hands Gallery, Amer's Mediterranean Deli, Ann Arbor Bivouac, Ann Arbor Brewing Co., Arbor Farms Market, Banditos, Downtown Home & Garden and more for between 20 and 50 points. An example of a local reward is a $10 coupon off a purchase of $50 or more at 16 Hands or a $5 coupon for a purchase of $25 or more at Amer's.
RecycleBank members can also track online how many gallons of oil and how many trees their household saved because of their recycling efforts.
Q: So couldn't my neighbor freeload from my recycling efforts by only recycling a little bit to reap the rewards?
A: Theoretically, yes. But the rewards themselves are not meant to be the reason folks recycle - just an incentive to join a community-wide effort, Harse said. "Let's be honest about what this program is doing. It's creating an great incentive for recycling, to make someone think twice before throwing something away … That's the greater goal."
Do you have more questions about recycling in Ann Arbor? Send them our way and we'll be sure to update with all the answers we can get.
Tina Reed covers health and the environment for AnnArbor.com. You can reach her at tinareed@annarbor.com, call her at 734-623-2535 or find her on Twitter @TreedinAA.