Posted on
Mon, Apr 22, 2013 : 9 a.m.
How much did Ann Arbor recycle in 2012?
By Cole Bertsos
Ann Arbor resident's recycling efforts throughout 2012 have made not only an environmental impact, but an economic one as well, according to a study by ReCommunity.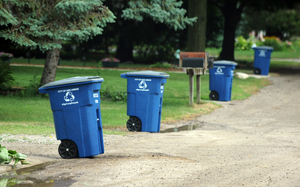 File photo | AnnArbor.com
In honor of Earth Day, ReCommunity, Ann Arbor's recycling partner, announced Monday that during 2012 the city's residents recycled a total of 12,268 tons of materials.
Along with miscellaneous items, the more than 12 thousand tons of recycled material included 1,426,950 aluminum cans, 22,035,077 plastic bottles and 6,459,361 glass bottles. It also had 1,665,218,297 sheets of paper — the equivalent of 140,423 trees, according to the organization.
A release from ReCommunity stated that amount of materials can create up to 25 jobs within the community and prevent 35,602 metric tons of of CO2-equivalent greenhouse gases from being released in the area.
The organization believes that sustainability should not be limited strictly to environmental causes, but should be all-encompassing, including economic and social benefits as well.
In addition to Ann Arbor's results, the data also provided the total for all of Michigan, which weighed in at 236,674 tons total. The closest areas behind Michigan were Arizona, with 182,518 tons recorded, and the Hudson Valley region with 65,923.