Posted on
Sat, Jan 28, 2012 : 5:53 a.m.
Reduced staff, 'archaic technology' inhibit new testing tool at Ann Arbor schools
By Danielle Arndt
Ann Arbor Public Schools overcame a myriad of challenges in the first round of a new standardized, student testing program launched this year.
But reduced staff in the Department of Research Services and outdated technology may prevent the district from implementing the assessment tool effectively in the remaining four K-8 buildings: Tappan, Slauson, Forsythe and Clague.
Deputy Superintendent for Instructional Services Alesia Flye said both "obstacles" are being considered and there is no current plan or timeline for when AAPS will expand the testing.
Ann Arbor approved spending $92,700 in May of 2011 to purchase the Measures of Academic Progress (MAP) Assessment from the Northwest Evaluation Association.
The test was rolled out in the fall to each grade at the district's 21 elementary schools as well as sixth through eighth graders at Ann Arbor Open and Scarlett Middle School.
Originally, when the board first considered the test, it was told the district's existing computers would suffice to implement the assessment program but additional server space would be necessary — an expense of about $31,500, covered by the Child Accounting and Assessment budget.
But the first round of testing, which ran Sept. 14 through Oct. 7, proved to be difficult after all.
A short window to train staff, complications with the vendor itself and "archaic technology" almost led the district to abandon its efforts, said Superintendent Patricia Green.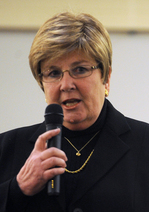 "We had to make a decision whether to jettison it or to continue to collect the very valuable data that we thought would be beneficial to us moving forward," she said, adding the assessments tied up computer labs because the district's classroom technology is "not as compatible as we want it to be."
Ann Arbor Public Schools currently is in the initial stages of gathering support for a three-phase technology bond. The millage proposal will appear on the May 8 ballot and if passed, will allow for AAPS to purchase new or upgrade its tech infrastructure.
Green called the first round of MAP Assessments "a real nightmare" and praised administrators, teachers and building principals for their patience and perseverance.
The second round of testing began Jan. 10 and will wrap up Feb. 3. Data will be released to parents the week of Feb. 13. The third and final annual testing period will be from May 7 to June 1.
Flye said administrators and teachers alike have been pleased with the second assessment and have not reported any computer freezes.
MAP, which evaluates students in math and reading and compares their scores to national standards, provides results to teachers within 24 hours.
Flye said there was a learning curve getting all of the teachers set up and comfortable with how to access the system, but now staff is using the data on a more immediate basis. She said the data helps teachers adjust their instruction to improve individual learning.
In recent years, the Michigan Department of Education has placed a greater emphasis on data collection in schools. BOE Vice President Christine Stead asked how this push for data and now the new testing program has impacted the staff in the research services department.
"It's a real struggle," Green said. "Jane (Landefeld, director of student accounting and administrative support) and her colleagues are already on overload and yet whenever we ask for anything, she comes through with it."
Flye said once the issues following the initial implementation were resolved, teachers have generally been in favor of the testing tool. The district will continue to monitor assessment scores as well as to seek feedback from staff and parents, Flye said.
Staff reporter Danielle Arndt covers K-12 education for AnnArbor.com. Follow her on Twitter @DanielleArndt or email her at daniellearndt@annarbor.com.