Posted on
Sat, Jun 12, 2010 : 6 p.m.
Reed City doctor comes to Ann Arbor to help patients obtain medical marijuana
By Erica Hobbs
Dr. Edward Harwell didn't always support medicinal marijuana.
The Reed City doctor, who has been coming to Ann Arbor weekly for the past month to assist patients in obtaining medical marijuana, said he was very anti-drug for most of his life.
But after attending a medical conference on medicinal marijuana use three years ago, Harwell said he has changed his mind.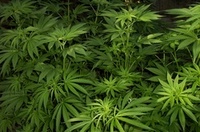 "They were talking about all the things it was good for so I started studying it," he said. "It's very successful at alleviating pain. It's the only drug you can't overdose on, it's not toxic and it's not addicting."
Harwell, a former neurosurgeon, radiologist and general practitioner, decided to take up the cause after Michigan legalized medical marijuana use in 2008. He's been helping chronically ill patients get the drug for the past two months and is now making weekly trips to Ann Arbor's Liberty Clinic, where he said he has assisted about 300 patients.
Harwell was at the clinic today, seeing patients with the help of two volunteers.
"I thought I'd be treating a bunch of hippies trying to get pot. In fact, it's the reverse," he said. "Most of them are very active citizens who wouldn't be able to stand the pain without marijuana."
Patients must book their appointments in advance through the Liberty Clinic, a non-profit organization that provides caregivers - those legally allowed to produce and sell marijuana - to patients eligible to receive the drug. Patients then meet with the doctor in a small room in the second story of 206 S. Main St. where, for $200 or $250 without medical records, they can sit down with Harwell. The doctor and patients discuss their symptoms, medical history and records to determine whether they are eligible for the card.
Though Harwell said most of the patients who see him are long-time marijuana users, the vast majority come with the proper medical documentation to prove their illnesses. To apply for a medical marijuana card, a physician must sign a document stating the patient suffers from one of 13 listed medical conditions such as cancer, HIV or Crohn's disease. Other conditions include glaucoma, Hepatitis C or severe and chronic pain.
Pain is something Lansing resident Julie Schneider is familiar with. Schneider, a former California resident who has been using medicinal marijuana for the past three years, drove in to help Halwell check-in patients and organize paperwork.
Though she declined to disclose her own medical condition, she said she's seen significant results in how medical marijuana has helped with her pain, as well as its benefits for others. She said she became an advocate of helping others attain medical marijuana after seeing its effects on a friend suffering from multiple sclerosis.
"Watching the amazing change with her when she medicates, it's like night and day," she said. "We're just scratching the surface of what the compounds in this plant are capable of."
Harwell said even though he generally doesn't do a complete physical examination, his role is necessary. He said many doctors don't want to certify patients for medical marijuana use because the law is still a little unclear.
"I want to (do it)," he said. "I like patients, and I believe in it."
Erica Hobbs is a reporter for AnnArbor.com. Reach her at 734 623-2537 or via e-mail at ericahobbs@annarbor.com.