Posted on
Sat, May 18, 2013 : 7:38 p.m.
Ann Arbor doctor killed in Saturday morning crash
By Cole Bertsos
Related: U-M physician killed in weekend crash drew praise from colleagues, patients.
An Ann Arbor doctor was killed in a crash along eastbound I-94 near Zeeb Road at Saturday morning, according to Michigan State Police.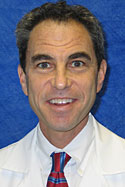 Courtesy of UofMhealth.org
Steven Ernst Gradwohl was the driver of a Volkswagen Cabrio that witnesses said drifted across three lanes of I-94 and landed in a ditch at about 9:30 a.m.
"The vehicle went off the road and into the ditch, then eventually running into the bridge abutment for the Zeeb Road overpass," according to a statement.
It is unclear what caused the car to drift across the lanes and no other vehicle appears to have been involved.
Passing motorists stopped to pull Gradwohl, 51, out of the car, which was engulfed in flames by this time. After numerous attempts to revive Gradwohl with CPR by motorists, state police troopers and deputies from Washtenaw County Sheriff's Department, he was pronounced dead at the scene.
Heidi Hansen, who was traveling to a business meeting in Saline from her home in Charlotte, stopped at the scene moments after she said three motorists had pulled Gradwohl from the vehicle. The chiropractor said she administered CPR for a few minutes until officers from the Washtenaw County Sheriff's Office arrived and took over.
Gradwohl's car exploded several times while bystanders and first responders administered care, Hansen said.
"Those three guys were awesome because they had no idea what they were doing, they just went there, pulled him out and got him away," she said.
Gradwohl was an internal medicine doctor within the University of Michigan Health System. He also was a clinical assistant professor in the Department of Internal Medicine.
Preliminary investigation and witness statements indicate he may have lost consciousness for unknown reasons. A medical exam is pending.
The Scio Township Fire Department and Huron Valley Ambulance also assisted on the scene.
Freelance reporter Sven Gustafson contributed to this story.