Posted on
Sat, Nov 21, 2009 : 7:24 p.m.
Remote-controlled racing draws fans for competition, recreation and camaraderie
By Erica Hobbs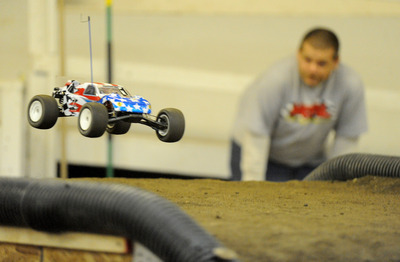 Angela Cesere | AnnArbor.com
It was a day at the races today for about 115 remote-control car racers at the Washtenaw County RC Raceway.
Participants from all over Michigan gathered at the Washtenaw Farm Council Grounds near Ann Arbor to test their maneuvering skills on the facility's 500-foot track.
"We're a very popular venue here," owner James Raupp said.
The weekend marked the first point race of the raceway's 2009-10 season, which includes a series of 11 races from mid-November to mid-March.
With 17 heats of classes including four-wheel-drive buggies, two-wheel-drive stock cars and 1/8th-scale monster trucks, participants had five minutes to maneuver along the track's sharp turns, double and triple jumps and 2-foot tall tabletop ramp as smoothly and quickly as possible.
"It's everything that real racing is, but on a smaller scale," said Ann Arbor resident Jordan Ponstein, who has been racing for the past three years.
Though some of the racers can reach up to 70 miles per hour, Raupp said cars generally run the track going half that speed.
"We're more interested in how you control the vehicle than how fast you can go," he said. "Big air and going fast doesn't necessarily achieve the fastest lap times."
The atmosphere of the competition was one of pleasant camaraderie.
Small groups of children gathered around computers playing video games, while older racers chatted among themselves and tinkered with car parts while waiting between races.
"People come here because they enjoy the hobby, and it's an opportunity to relax," Terry Micallef, a racer from Trenton, said. "It's a social event, and it's very family-oriented."
Family-friendly fun is exactly the atmosphere Raupp said he wants his raceway to create, which he says is just as important as the races themselves.
"Our biggest interest is keeping this hobby alive," he said. "We believe that we need to mentor new racers in order to sustain people in this hobby."
The Washtenaw RC Raceway is open nearly every other Saturday for competition and is open to the public. Total points will be tallied at the end of the series in March, with the top three winners receiving plaques and gift certificates. For more information visit www.washtenawrcraceway.com.
Washtenaw RC Raceway 2009-10 Schedule: Dec. 5, 2009 Dec. 19, 2009 Jan. 2, 2010 Jan. 16, 2010 Jan. 30, 2010 Feb. 13, 2010 Feb. 27, 2010 March 6, 2010 March 13, 2010 March 14, 2010