Posted on
Tue, Mar 29, 2011 : 6:46 p.m.
Rep. Jeff Irwin calling on Legislature to place graduated income tax proposal on state ballot
By Ryan J. Stanton
State Rep. Jeff Irwin, D-Ann Arbor, has introduced a resolution calling for a constitutional amendment to implement a graduated income tax in Michigan, saying the evidence is clear that state residents want income to be taxed in accordance with ability to pay.
"I call on the Republican majority to pass this resolution and place a graduated income tax proposal on the ballot," Irwin said in a statement. "Then the people of Michigan can decide whether they want a more fair and equitable distribution of our tax burden."
The state's flat income tax rate is 4.35 percent. Irwin pointed out that 33 states have graduated income tax models and other state legislatures are considering them.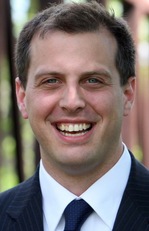 Irwin cited an Oct. 9 survey by Wayne State University's Center for Urban Studies that revealed nearly two-thirds of Michigan adults — or 64.3 percent — favor shifting away from the state's current flat income tax rate to a graduated income tax plan.
Though specific tax rates are not included in the legislation, Irwin said a graduated income tax similar to most other states' would lead to a tax cut or no increase in taxes for 80 percent or more of Michigan taxpayers. He said it's more than just a short-term fix.
"We need to restructure our tax system in Michigan," Irwin said. "Instead of shifting the tax burden to low-income workers and fixed income residents, we should implement a fairer tax. We need progressive tax reform in Michigan, not more reverse-Robin Hood politics."
Irwin said his proposal is not necessarily a direct counterproposal to budget measures proposed by Republican Gov. Rick Snyder, but it does offer a different line of thinking. Irwin thinks Snyder's budget favors the wealthy at the expense of those of lesser means.
"As we look at reinventing Michigan, we should reinvent it in a way where our tax policy is as fair as possible," he said. "While Snyder is proposing redistributing the wealth up the economic food chain, I think it's a good time to bring back this idea that people have been talking about in Michigan for decades. This is one of the issues that is very popular among the public."
Changing the state's tax structure would be a constitutional change and would take a vote of the public to become law. If passed, the state Legislature would be authorized to graduate income tax rates similar to the rate structure at the federal level.
Former state Rep. Alma Wheeler Smith, a Washtenaw County Democrat, recently said she's not counting on the Legislature. Instead, she's forming a grass-roots action agency to work toward collecting some 300,000-plus signatures from voters in order to put a graduated income tax question on the ballot in November 2012.
Ryan J. Stanton covers government and politics for AnnArbor.com. Reach him at ryanstanton@annarbor.com or 734-623-2529. You also can follow him on Twitter or subscribe to AnnArbor.com's e-mail newsletters.