Posted on
Thu, Oct 25, 2012 : 5:59 a.m.
Report: Ann Arbor schools reduced administrators by 11.9 percent in past 5 years
By Danielle Arndt
A five-year snapshot of staffing adjustments at the Ann Arbor Public Schools revealed an 11.9 percent reduction in administrators and a 5.6 percent reduction in teachers.
Deputy Superintendent of Human Resources David Comsa and his team delivered a report on the department to the Board of Education Wednesday night.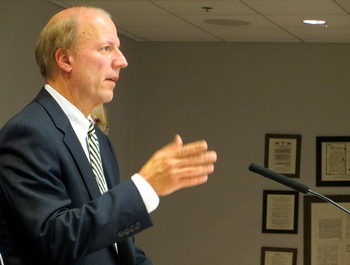 It outlined the hierarchy, duties and responsibilities of the human resources and legal services department, in addition to providing a break-down of the district's FTE staff by category.
The presentation drew praise from board members, who were pleased to see Ann Arbor's faculty numbers brought before the public. But the report also launched a discussion on how AAPS can improve its recruitment/hiring process to attract more minority teachers.
FTE stands for full-time equivalent and for the 2012-13 academic year, AAPS is employing a total of 59 FTE in administration, 165 in custodial and maintenance staff, 262 in paraprofessionals and 1,137.54 in professional certified staff, which includes teachers, counselors, school nurses, social workers, psychologists, speech pathologists and occupational and physical therapists.
This is virtually the same size staff the district employed in 2011-12. It has one fewer professional certified staff than last year, according to the report.
From 2005-06 to 2011-12, the number of teacher FTEs was reduced 5.6 percent from 1,206.14 to 1,138.54, for a difference of 67.6 FTEs.
The district compared its current staff ratios to other surrounding districts of similar size (Farmington, Dearborn and Plymouth-Canton) and found its student-to-principal ratio to be about equal to Dearborn's, slightly greater than Farmington's and much less than Plymouth-Canton's.
The same trends were true of Ann Arbor's student-to-certified staff ratio when measured against these neighboring districts.
From 2005-06 to the previous school year, Wednesday's report showed AAPS had reduced its central administration staff from 11 FTE to 8 FTE and its principals and directors from 56 FTE to 51 FTE — for a total reduction of 11.9 percent.
Board Secretary Andy Thomas pointed out that in this five-year timeframe, the district opened Skyline High School and increased the responsibilities of principals and administrators, especially in the areas of evaluations, data collection and data desegregation, he said.
Thomas also said occasionally, AAPS is criticized by the public for the number of administrators it employs.
"So Mr. Comsa, is there any reason why a rational, knowledgeable person would reasonably reach the conclusion … that administrators have somehow been held harmless in all of (these recent budget cuts)?" Thomas asked facetiously after the administrator totals were revealed to the board.
"I couldn't comment on why a person would hold a particular opinion," Comsa said. "But I would say the data speaks for itself."
President Deb Mexicotte said in addition to administrators' responsibilities increasing and their "span of control," or the number of employees they are supervising increasing, student achievement also has improved in the past five years.
Currently, 51 percent of Ann Arbor's total professional certified staff has obtained a master's degree. Two percent of employees have their doctorates, while 11 percent have a bachelor's degree and a master's degree with some additional credits. Ten percent of the district's staff has solely a bachelor's degree.
According to the report, AAPS hired 65.45 FTEs at the start of the 2012-13 academic year to fill vacancies left by retirements and resignations. Of those new hires, 29 percent had a bachelor's degree, 50 percent had a master's degree and 13 percent had a master's degree plus 30 extra credits.
"So we have a highly, highly educated staff," Mexicotte said.
Ann Arbor Public Schools employs 1,074 Caucasian teachers, 167 African American teachers, 28 Hispanic teachers, 23 Asian teachers and two American Indian teachers. Twenty-five teachers identified themselves as "other" on the district's demographic sheet, Comsa said.
Trustees Glenn Nelson and Susan Baskett both expressed concerns about the number of teachers in each minority demographic. Nelson said it's important for children to see "people like them" be successful in the world and to have mentors of similar backgrounds to look up to.
Baskett asked about the district's minority teacher recruitment process.
Human Resources Director Cynthia Ryan said there is an Ann Arbor Education Association Minority Affairs Committee that assists in recruiting "applicants of color," as Baskett referred to potential minority teachers.
Ryan said in April, the district attends job fairs at the University of Michigan, Eastern Michigan and Michigan State.
"The lines are long and some of these kids wait in line for a few hours," she said. "We see a lot of people. However, we don't see a lot of minorities, so we usually try to reach out to the historic black and minority colleges and universities."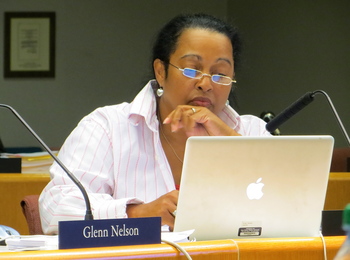 When that doesn't work, AAPS touches base with its existing African American, Asian and Arab American teachers to see if they know anyone who recently graduated from an education program or is job-hunting, Ryan said.
"I'm a little troubled by this," Baskett said. "Why don't we expand at least to like Wayne State University? … Why have we limited ourselves to this? … At one time, I remember a conversation about Ann Arbor hosting its own recruiting fair. … I would have hoped we'd have done something a little more creative by now. These are the same schools we've been seeing for years."
Ryan said the department tries to recruit close to home for traveling purposes, but it has reached out in the past to other universities in Michigan via phone and email.
"It is very difficult to get kids (potential teachers) to come to our district from the other side of the state — let alone out of state," Ryan said.
Baskett asked why, when AAPS has proven it is a "wonderful district" through its academics and test scores.
Glenn said he also would like to explore Ann Arbor's hiring process more thoroughly.
"I'm quite surprised and a little dismayed that we're having trouble getting people to come from a distance to Ann Arbor," he said.
The biggest reason new teachers cite is they want to stay close to their families or, if they reside in a warm climate, they don't want to move to a cold one, Ryan said.
"Personally, I've heard that we hire too late in the process," Baskett said, adding more hiring decisions should be made in June, not August. "A lot of your good applicants of color leave graduation with a number of offers already in hand."
Ryan said often budget unknowns, late retirements and resignations as well as principals moving staff around to teach different courses or grade levels can make it difficult for human resources to know what the district's needs are. Comsa said HR can consider establishing some new procedures to deal with that last item.
Mexicotte said district officials also need to explore strategies for relationship building that start before the applicants graduate.
"…How do we maintain a pool of candidates that we can approach and re-approach," she said. "We know a few years into a teaching profession, most people are looking to move or to change districts. I wonder if there isn't some strategy there we can look at as well?"
Comsa said one other thing he would like to do is gather data from Ann Arbor's peer districts on how many minority teachers they are employing and hiring, so AAPS can "benchmark" itself. "It would be good to know where we stand," he said.
Vice President Christine Stead suggested obtaining data from the local university programs, as well, to see how many minority teaching graduates are out there, so Ann Arbor knows how large the pool is.
Download the powerpoint that accompanied Wednesday's human resources report here.
Danielle Arndt covers K-12 education for AnnArbor.com. Follow her on Twitter @DanielleArndt or email her at daniellearndt@annarbor.com.