Posted on
Sun, Dec 23, 2012 : 5:59 a.m.
Report finds synthetic cannabinoids like K2 still in use among high school seniors
By Amy Biolchini
High school seniors have continued to use synthetic cannabinoids like K2 and Spice even after the federal government banned a number of chemicals used to manufacture the drugs in 2011, according to a recent study conducted by the University of Michigan.
The Monitoring the Future report, released last week, found that 11.3 percent of twelfth grade students across the country used a synthetic cannabinoid substance in 2012 -- the same level as in 2011.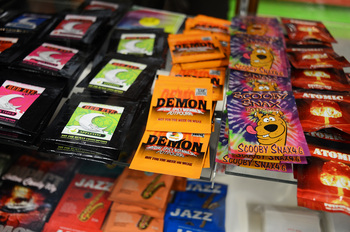 Melanie Maxwell I AnnArbor.com
The federal government listed specific chemicals used to make the synthetic drugs as controlled substances in 2011 -- a move that
Lloyd Johnston
, a professor at U-M and principle investigator on the study, said he thought would have resulted in a decline in use among teens.
Synthetic cannabinoids are made by spraying manufactured chemicals on a herb or leafy substance. However, their effects differ from marijuana. Noted side effects include loss of control, seizures, hallucinations, vomiting and elevated heart rate and blood pressure.
They were sold in head shops, at party stores and gas stations under a number of commercial names, the most common being K2 and Spice.
In 2011, poison control centers across the country responded to more than 13,000 calls related to use of synthetic cannabinoids and synthetic cathinones, 60 percent of which involved patients age 25 and younger, according to the American Association of Poison Control Centers. The Michigan legislature took a more aggressive approach than the federal government in banning the entire class of synthetic cannabinoids and synthetic cathinones.
The ban took effect July 1, and resulted in a raid by the Livingston and Washtenaw Narcotics Enforcement Team on Ann Arbor head shop Bongz & Thongz in August.
Synthetic cathinones, known more commonly as "bath salts" and sold under trade names like "Cloud 9" and "Bliss," contain designer drugs that have amphetamine-like effects.
The Monitoring the Future study surveyed the prevalence of the drugs amongst teens for the first time in 2012 because of the bad reputation bath salts garnered after being linked to a number of violent crimes and adverse side effects like extreme and irrational behavior, as well as suicidal thoughts, Johnston said.
The report showed that drugs like bath salts have very little prominence among teens, a result that Johnston said was the most important finding of the study.
"Today, bath salt use is very low among kids," Johnston said. "A little over one percent of high school seniors say they've used it in the past year."
For eighth and tenth graders, that percentage is even lower: 0.8 percent and 0.6 percent have used bath salts in the past year, according to the report.
Debbra Snyder, Outpatient, Daybreak, and Corrections Program Coordinator at Dawn Farm, said synthetic cannabinoids like K2 were an increasing drug of choice in 2011 for the older teens treated at the clinic with identified substance abuse issues.
Dawn Farm is a nonprofit organization in Ypsilanti Township that assists addicts and alcoholics in treatment and recovery.
However, the state's crackdown on synthetic cannabinoids in 2012 has resulted in less use in the teen population Dawn Farm treats, Snyder said.
In 2012, the prominent drugs of choice for older teens treated at Dawn Farm were opiates, especially in relation to prescription painkiller abuse, Snyder said.
"A year ago, it was synthetics that was the problem," Snyder said.
Snyder said marijuana is the number one drug of choice for older teens. Number two is alcohol. Previously, amphetamines have held the third spot, but opiates may soon have that rank, Snyder said.
Amy Biolchini covers Washtenaw County, health and environmental issues for AnnArbor.com. Reach her at (734) 623-2552, amybiolchini@annarbor.com or on Twitter.