Posted on
Thu, Nov 29, 2012 : 4:52 p.m.
Report: Willow Run has greatest percent of 'highly effective' staff in Washtenaw County; all Ann Arbor teachers rated 'effective'
By Danielle Arndt
Data released by the Center for Educational Performance and Information shows that about 97 percent of the state's 96,000 educators were deemed "effective" or "highly effective" in their evaluations last year.
Locally, the report shows Washtenaw County followed the trend, with most teachers being rated effective.
Willow Run schools had the greatest percentage of teachers over that middle mark, with about 28 percent of its evaluated staff receiving highly effective ratings.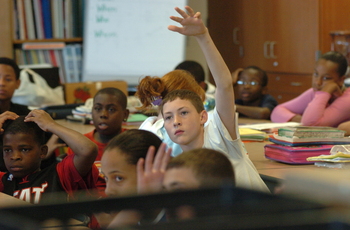 The Ann Arbor News file photo
The state data report tallied the results of the most recent evaluations for all administrators and teachers in Michigan's public schools. The evaluation data was collected from the traditional districts and charter schools at the close of the 2011-12 academic year, according to
MISchoolData.org
.
Statewide, 74.6 percent of evaluated staff were rated effective by administrators in their districts; 22.6 percent had highly effective ratings, 2 percent were minimally effective and 1 percent were ineffective.
One hundred percent of the educators at all of Ann Arbor's school buildings were awarded an effective rating, according to the report. Ann Arbor was the only school district to give its teachers, across the board, the same rating. The other districts in Washtenaw County had at least a few teachers who finished higher or lower on the scale.
Not a single teacher in the Ann Arbor Public Schools was given a rating of anything but effective. Of the 12 central office staff that were rated, one was deemed minimally effective.
Saline schools' teacher and administrator evaluations revealed almost the same trend as Ann Arbor's. All of Saline's educators at all of its buildings were given effective ratings, except one at Woodland Meadows Elementary School. This educator was deemed ineffective.
Ypsilanti Public Schools had the greatest number of teachers and administrators in the county (seven of 229, or about 3 percent) receive ineffective ratings. Seven others were found to be minimally effective.
On a high note, Ypsilanti also had a significant number of educators receive highly effective scores: 46, or about 20 percent.
Willow Run Community Schools had the greatest percent of teachers and administrators in the county receive highly effective ratings: 28 percent, or 31 people out of the 111 evaluated.
Willow Run had one minimally effective teacher at the Elementary Learning Center and one ineffective teacher at the Intermediate Learning Center.
In Chelsea, 91.18 percent of teachers at the high school were rated effective, while 8.82 percent received a higher rating. One high school teacher was minimally effective. Combined at the two elementary schools, 28.82 percent of teachers were highly effective.
At Dexter, 51 people, or 22 percent of all evaluated staff, were given a highly effective rating. The rest were effective.
One Lincoln High School teacher was found to be ineffective, while two teachers at Lincoln Middle School were minimally effective. One hundred percent of Lincoln's elementary school teachers received effective ratings.
At Manchester Community Schools, the bulk of teachers and administrators received effective ratings, while a select few were scored highly effective.
The bulk of Milan's school staff also was considered effective. However, a select few (five of the 139 evaluated) were found to be minimally effective.
Of the 68 personnel reviewed in Whitmore Lake, two were found to be ineffective, one was minimally effective, 61 were effective and four were highly effective.
Download the Michigan School Data Educator Effectiveness Ratings Report here.
Or, search for the results from your child's school using this Detroit Free Press database.
The CEPI data was released the same day as an Education Trust-Midwest report analyzing the teacher-evaluation mechanisms of 28 districts and charter schools. Those schools included Kalamazoo, Rockford and Dearborn public schools and the charter schools operated by National Heritage Academies.
Overall, the report says districts are improving their teacher evaluation systems, but they are struggling with issues of fairness and consistency.
Ed Trust Midwest is a think tank based in Royal Oak that advocates for high academic standards in public education, according to an MLive article.
The article highlights the following points from the report:
"Despite their best efforts, many school districts and charter schools don't have the resources or expertise needed to reliably evaluate teachers and give them the support and feedback they need to grow," the report says.
"Some state action is essential to protect everyone's best interests ... for students, teachers and administrators," says the report, which includes a list of recommendations on what actions are needed.
The study's conclusion: "By adopting state standards of evaluation, Michigan will help ensure that all models used in the state are reliable, technically-sound, and focused on improving teaching and learning."
In 2011, the state created the Michigan Council for Educator Effectiveness to help build a framework for a statewide teacher evaluation model, including a student-growth element that would factor in student test scores into teachers' evaluations.
Read the full MLive.com article here.
Danielle Arndt covers K-12 education for AnnArbor.com. Follow her on Twitter @DanielleArndt or email her at daniellearndt@annarbor.com.