Posted on
Wed, Oct 31, 2012 : 7:58 a.m.
Police: New incident on I-96 was road rage, not shooting
By Cindy Heflin
An incident reported along Interstate 96 in Livingston County was a case of road rage and not related to the string of I-96 corridor shootings, the Detroit News reported.
Two motorists were involved in a yelling match on the side of the freeway near Spencer Road, Michigan State Police Lt. Mike Shaw told the newspaper. Their cars were not damaged and there was no assault.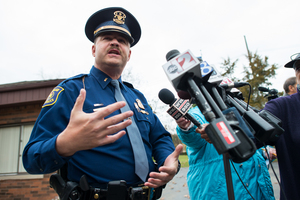 Courtney Sacco | AnnArbor.com
The report initially sparked fears that it was another in a string of shootings that has had motorists in the area on edge for several weeks.
The report follows an incident earlier one this week on U.S. 23 near I-96 in Livingston County. In that incident, police said a projectile went through a car window, but they did not believe it was a shooting. State Police Tuesday said it appears to have been a rock, The News reported.
On Tuesday, police stopped a number of cars that appear to be involved in "suspicious activities" along some southeast Michigan roads and freeways in an effort to find the man believed to be randomly shooting at passing vehicles, The Associated Press reported.
More than 100 local police, sheriff's deputies, state troopers and federal agents are involved in the case which started Oct. 16 with shootings reported in Wixom, about 25 miles northwest of Detroit.
A West Michigan man was shot in the buttocks Saturday while driving to Detroit along Interstate 96 in Livingston County. He is the only person wounded so far, but the suspect is believed to be shooting at people — not just their vehicles, Oakland County Sheriff Michael Bouchard told The Associated Press Tuesday.
The FBI and ATF announced on Monday that they, along with Crime Stoppers are offering a $102,000 reward for information leading to the arrest and conviction of a suspect in the string of shooting incidents, which now total 24. One person has been injured.