Posted on
Wed, Nov 3, 2010 : 12:24 a.m.
Republican Mark Ouimet wins in race for Michigan's 52nd District House seat
By Ryan J. Stanton
Republican Mark Ouimet, who has repeatedly been under fire by the Washtenaw County Democratic Party in recent weeks, has won his bid for the 52nd State House seat.
Ouimet maintained a narrow lead over Democratic opponent Christine Green throughout Election Night, but it wasn't until early this morning that Green conceded.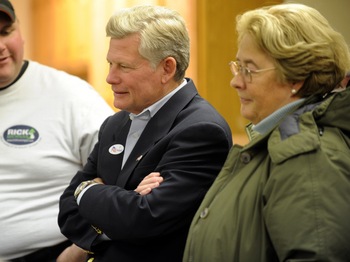 Melanie Maxwell I AnnArbor.com
With all precincts reporting as of 5 a.m., Ouimet had 21,462 votes (51.6 percent) to Green's 20,027 (48.1 percent).
Ouimet, a former bank president from Scio Township, was congratulated by supporters as he left the Washtenaw County Republican Committee's headquarters in Ann Arbor at 1:30 a.m.
"I felt good about the evening from the standpoint that I think the people in the 52nd District were focused on jobs," Ouimet said. "I think they were concerned about this economy, and I think looking at the support that I had, and the support that our new governor had, spoke highly of people who were concerned about jobs."
Green's campaign manager, Margy Long, announced at 2:30 a.m. that Green, who was down by more than 1,000 votes with two precincts left to report, was calling it a night.
"We are very proud of the race that we ran," Long said. "Christine did everything to talk to voters, and she really was moved by what people had to say to her and believed firmly in her plan to bring jobs and help small businesses. It just was not the year for Democrats."
Asked how he feels going to work for a state government with his party now in control, Ouimet said he doesn't look at it from a partisan perspective.
"I look at it from the standpoint that everyone's hearing the same thing, the way I see it, and that's about the economy and jobs," he said. "I think there clearly was a concern about the path that the state was on, and I think the people throughout the state wanted to see a different direction, and I think our new governor is going to give us that."
Ouimet ran with the endorsement of Ann Arbor businessman Rick Snyder, who takes over as Michigan's governor starting in January. Snyder has vowed to eliminate the Michigan Business Tax and create an environment where businesses can flourish.
"Rick and I see eye-to-eye on economic development and job creation, so I think we're going to work very closely," Ouimet said. "Rick and I have been friends for a long time and have had a lot of discussions about business and politics, and I think it led us here this evening."
Ouimet and Green had been engaged in a bitter battle for the open seat being vacated by incumbent state Rep. Pam Byrnes, D-Lyndon Township, who was term-limited.
Ouimet raised more than $238,000 during his run for the seat, while Green raised more than $130,000.
Ouimet is a former Ann Arbor City Council member and current vice chairman of the Washtenaw County Board of Commissioners. He has been credited with helping the county through tough economic times and working on such key issues as sheriff's patrols and the merger of the Ypsilanti and Ann Arbor chambers of commerce.
Melanie Maxwell I AnnArbor.com
Green, an attorney and Scio Township trustee, campaigned on a promise of making government more efficient and avoiding tax increases.
Both faced attacks from the other party, with the most damning coming at Ouimet in recent weeks. The local Democratic Party has questioned his use of per diems as a county commissioner and his academic credentials, among other issues. Meanwhile, Republicans have raised concerns about Green's unpaid taxes from two decades ago.
The 52nd House district represents the western part of Washtenaw County and part of the city of Ann Arbor.
AnnArbor.com talked to several 52nd District voters as they left the polls Tuesday. Most appeared to base their decisions on party lines, not the individual candidates.
"I voted Democratic straight-ticket because I think that we need to continue the policies that were started two years ago," said Catherine Mermier, a medical transcriptionist from Scio Township. "To change everything up now, I think, would just move things backwards."
"I pretty much went straight-ticket, across-the-board Republican," said Phil Rider of Scio Township. "Basically it just aligns with my stance and views on different issues."
Cindie Grammatico, a catering and banquet manager from Scio Township, based her vote on her experience with Ouimet. She said she wasn't swayed by attacks on him.
"I've always liked Mark Ouimet. It's someone I know personally," she said. "I would look at what I know of him instead of what I hear from other people slinging the mud."
Ryan J. Stanton covers government and politics for AnnArbor.com. Reach him at ryanstanton@annarbor.com or 734-623-2529.